Dispur woos tea tribes before elections
BJP had won 60 seats in the 2016 election, has set a target of winning at least 100 seats in 2021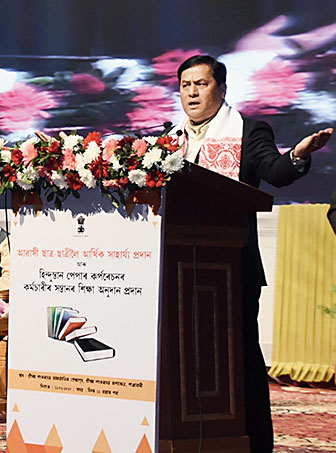 Sarbananda Sonowal
Picture by UB Photos
---
Guwahati
|
Published 12.02.20, 06:33 PM
|
---
Assam cabinet on Wednesday took a slew of decisions for development of the tea garden community which had voted overwhelmingly for the BJP in the past elections.
The Opposition Congress saw the move as a bid to woo the tea garden voters for the 2021 Assembly election. The BJP, which had won 60 seats in the 2016 election, has set a target of winning at least 100 seats in 2021.
Assam chief minister Sarbananda Sonowal, who chaired the cabinet meeting, tweeted: "To further empower students of the tea tribe community, the Cabinet approved the Simon Sing Horo Special Scholarship scheme of Rs 10,000 each to HSLC and HS passed candidates belonging to the community."
"The Cabinet also approved the Swahid Dayal Das Panika Swaniyojan Achoni of granting one-time financial assistance of Rs 25,000 for 15,000 youths of the tea tribe community, provisions for construction of pucca houses for workers of the Assam Tea Corporation Limited gardens at the cost of Rs 1.3 lakh per house," he added.
Debabrata Saikia, leader of the Opposition in the Assembly, said, "The decisions have been taken keeping an eye on the 2021 election. We welcome the government's step to help the tea garden community but while offering help, the government should not differentiate on the basis of community. All poor people should get the government's support."
The BJP-led government in the state gives rice free to tea garden workers under the National Food Security Act (NFSA) but takes Rs 1 per kilogram from the other beneficiaries.
The cabinet also resolved to increase allotment of agricultural land from three to seven bighas under the Land Policy 2019, to give Rs 20,000 each to install solar kits in those Pradhan Mantri Awas Yojana houses which do not have electricity connection, provide regular pay scale and other government facilities to 623 contractual supervisors and 12 statistical assistants under the social welfare department.
The Land Policy 2019, which was approved by the cabinet earlier, suggests giving maximum three bighas of land each to landless families for cultivation and half a bigha for homestead.