Curious case of NRC status swing
NRC sources were tightlipped because the case is being monitored by the Supreme Court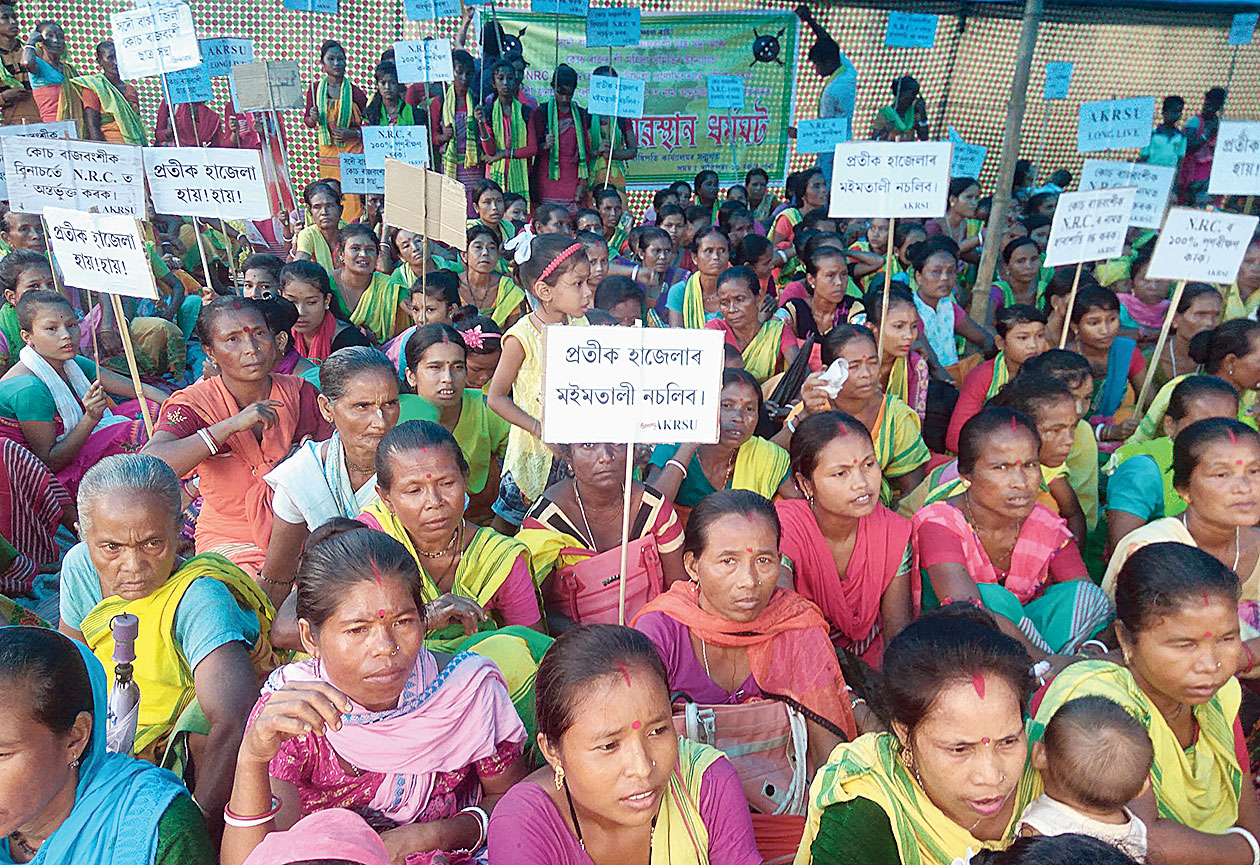 ---
|
Guwahati
|
Published 12.09.19, 06:38 PM
---
The NRC authorities have changed the application status of three persons twice in a fortnight of publication of the final NRC.
The three persons — Jubeda Begum, her son Jahar Ali and daughter Sahida Begum of Pub Mikirbheta village under Mikirbheta police station of Morigaon district in Assam — were declared "foreigners" by a foreigners tribunal (FT No. 3 of Morigaon) in 2016. However, their names were included in the final NRC published on August 31.
On September 7, their names were dropped after Assam Public Works, an NGO, filed an FIR and Assam police registered a case against NRC officials. The NRC online data on inclusions and exclusions showed the status of the trio as "reject" but no official explanation was given.
The development triggered a controversy with many asking whether it was right to change the application status of a person after the publication of the final NRC.
When this correspondent checked the trio's status on Thursday, the NRC website showed "accept" till the evening. Again, no official explanation was given.
FT No. 3 had also declared Jubeda's second son, Giasuddin, a foreigner. His name did not figure in the final NRC. However, his daughter Resmin Begum's name figured in the final NRC, published in two parts — supplementary list of inclusion, containing names of applicants who were declared ineligible for inclusion in last year's complete draft NRC but were later found eligible, and the exclusion list, containing names of people found ineligible for inclusion.
The changes in the trio's status come at a time when organisations and parties of the state, including APW (a party to the NRC-related case in the Supreme Court), are expressing displeasure over the final NRC and some are alleging that the NRC authorities are not following the Supreme Court's guidelines.
APW general secretary Dhrubajyoti Talukdar said they would intimate the Supreme Court about the incident through an affidavit. "As far as we know, the NRC authorities can't change the application status of a person after publication of the final NRC," he said.
However, the NRC website that displays application status also states that any fact of misrepresentation of particulars/documents discovered by the authorities rendering the person ineligible will lead to exclusion of the person from the NRC.
The Telegraph could not contact Jubeda, 55, and her family members despite several attempts. When contacted, Mikirbheta police station sub-inspector Amitabh Sensua said the family "is on the run".
NRC sources, when contacted, were tightlipped because the case is being monitored by the Supreme Court. "Whatever we have to say we will say in the court," one of them said. NRC officials in Morigaon district said they were not authorised to talk and that they have followed procedures while carrying out their duty.