CPM MLAs to donate 25% of salaries
The leaders have also demanded free ration as the tribals and working-class people not having ration cards are facing starvation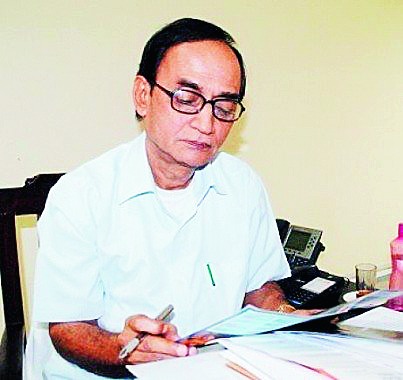 ---
|
Agartala
|
Published 03.04.20, 09:08 PM
---
The Opposition MLAs on Friday decided to donate 25 per cent of their monthly salary and allowances to the chief minister's relief fund for three months from March.
Former education minister Tapan Chakraborty on Friday wrote to Tripura chief minister Biplab Kumar Deb saying, "In Tripura, especially the people who are daily wage earners, are in miserable condition."
Chakraborty, who is also the Opposition CPM's party whip, wrote that the Tripura government has started taking some measures to help the people.
"…..the current MLAs of Tripura belong to the CPM have resolved to donate 25 per cent of their monthly salary and allowances to the relief fund of the CM Tripura. This they want to give for three months from March to May 2020. The MLAs have decided to start this donation from this month through bank cheque," Chakraborty wrote in the letter.
A Citu delegation of Tripura on Friday submitted a memorandum state chief secretary Manoj Kumar demanding immediate measures to ensure food and job security to the working-class people.
The three-member delegation, including the former West Tripura MP Shankar Prasad Datta, former transport minister Manik Dey and Panchali Bhattacharjee submitted an 11-point charter of demands which include financial support of Rs 5,000 for the organised and un-organised sector labourers.
Speaking at a news conference, Datta, who is the Citu state secretary, said, "Though we support the lockdown, the state has incurred heavy losses."
Dey, who is also the Tripura Citu president, said they have demanded the hand gloves and masks for all the essential service workers like the health employees in the hospital, midday meal, Anganwadi and Asha workers to ensure proper hygiene.
"We have demanded that the state government must ensure that all the private sector employees who were forced to sit at home, get salaries. The labour department must issue a directive and ensure that the private companies pay the salaries," Dey said.
The state secretary said the Citu delegation also sought an extra month's pension in addition to the 12 months' pension for the beneficiaries.
"The tea estate labourers are the worst affected following the lockdown as they are facing a massive shortage of food and essential commodities. Rice is not sufficient for the survival of the poor people as cash is required to purchase other essential commodities," Dey added.
The leaders have also demanded free ration as the tribals and working-class people who do not have ration cards are facing starvation.