Tea workers across Assam to protest over wages today
The protest called by the All India Central Council of Trade Unions (AICCTU), will be held in every tea garden of the country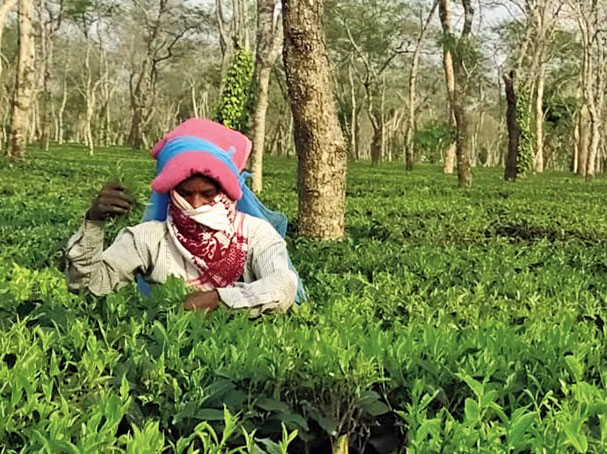 ---
Nalbari
|
Published 27.04.20, 08:30 PM
|
---
Tea workers across Assam will stage a protest on Tuesday, demanding the release of their wages for the lockdown period.
Tea workers from all gardens in the state will participate in the protest and wear black badges.
The protest called by the All India Central Council of Trade Unions (AICCTU), will be held in every tea garden of the country.
Asom Sangrami Chaah Shromik Sangha president Bibek Das said, "Tea labourers in Assam will protest by wearing black badges, as the Asom Sangrami Chaah Shromik Sangha has supported the protest," a source said.
Jiten Tanti, the general secretary of the Asom Sangrami Chaah Shromik Sangha, said the Tea Board India is silent regarding the wage issue so far.
He said the board has released Rs 32.97 crore to fulfil the needs during the lockdown period.
Asking how a beneficiary would be selected, said the genuine tea labourers have been deprived of the benefits.
Tanti alleged that several tea garden owners in Assam did not pay wages for the days of lockdown period to the tea labourers.
According to Tanti, some tea garden owners, especially in Orang and Jorhat, even paid half wages to the tea workers after lockdown relaxation.
Das said, "The central and state governments had ordered on March 29 and April 2 respectively, to release full wages to the tea labourers during the lockdown period. However, the labourers are still being deprived."
He said the daily wage of a tea worker is Rs 167 only per day.
"The tea workers will be deprived of their due wages if we do not raise our voices," Tanti added.
"We are trying our best. There has been no production for quite some time and hence no tea has been sold. Only when teas get sold, we will get money," a tea planter said.