Political parties of Assam join hands in Covid-19 fight
Focus on public health & economy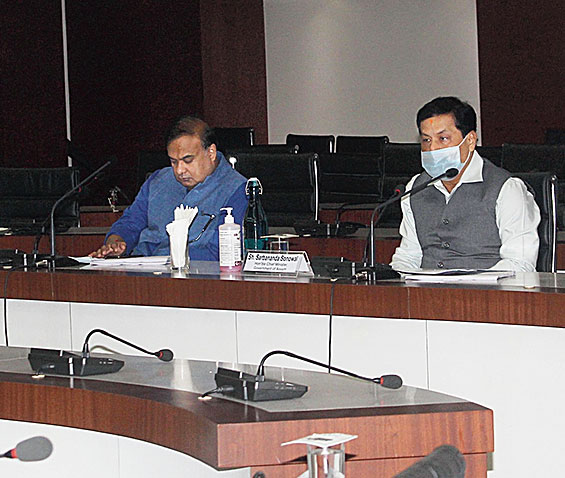 Himanta Biswa Sarma and Sarbananda Sonowal at the all-party meeting on Sunday.
Picture by UB Photos
---
Guwahati
|
Published 12.04.20, 06:43 PM
|
---
Political parties of the state on Sunday joined hands to fight the battle against Covid-19 as Team Assam, after taking part in a meeting chaired by chief minister Sarbananda Sonowal.
In the meeting at Assam Administrative Staff College here, Sonowal sought suggestions from all party leaders on the road map to check the spread of Covid-19. The discussion concentrated on reducing financial losses and problems of the marginalised sections if the lockdown was extended.
On Saturday, Sonowal had participated in a video-conference of chief ministers with Prime Minister Narendra Modi, during which majority of them suggested extension of the lockdown by at least two more weeks.
After Sunday's meeting, Sonowal said, "I thanked the party leaders for their participation and valuable suggestions. We are all together in this fight. Everyone has assured total support and decided to work as Team Assam to defeat this disease."
He later tweeted: "I am glad to share that leaders of all the political parties have taken a joint resolution to thank frontline health workers, security forces and all those who are leading our fight against #COVID19."
Sonowal said though Covid-19 had pushed the state to take care of public health and the health of the economy, in the absence of an antidote and to maintain social distancing, regular and economic activities are being truncated to save precious lives.
Thanking the state government's initiative, former chief minister and veteran Congress leader Tarun Gogoi said, "At this juncture, it's a battle we need to fight on two fronts. While public health is the priority now, the financial health also needs to be taken care of. I am satisfied with the state government's measures in healthcare and suggested to the chief minister to take similar care of the economy too. We are ready to extend our support in this fight."
Gogoi reiterated the need for rapid testing and suggested exemption of agriculture, horticulture and tea sectors from the lockdown. He also asked Sonowal to consider MGNREGA work with strict social distancing norms. Gogoi had demanded the all-party meeting.
Similarly, All India United Democratic Front (AIUDF) leaders said it had asked Sonowal to consider purchasing farm produce urgently to provide relief to the farmers. It said around 4,000MT of vegetables had gone to waste owing to the lockdown.
AIUDF general secretary Aminul Islam said, "It's a great step that the government has decided to take all political parties on-board to fight this tough battle against coronavirus. The lockdown has taken a toll on farmers, daily wagers and those stranded in various places. The government must consider allowing them to work by enforcing strict guidelines. It should immediately buy farm produce and distribute it through the supplies department."
The AIUDF also requested the state government not to reveal names of the Covid-19 patients. "It is very necessary to protect their identities as it may lead to social discrimination," Islam said.
While most of the party leaders spoke on similar lines, they also stressed the need of curbing misinformation on social media with iron hands.
Agriculture minister Atul Bora, water resources minister Keshab Mahanta, Rajya Sabha MP Biswajit Daimary, state BJP president Ranjeet Kumar Dass, chief secretary Kumar Sanjay Krishna and director-general of police Bhaskar Jyoti Mahanta, among others, were present.
Leader of the Opposition Debabrata Saikia suggested the state government form a task force consisting of representatives of all parties to work together in this crisis.
Saikia also mooted opening of community kitchens by the government to feed the needy and the stranded.