Assam villagers' lifeline: free rice
Lakhs of workers in the state have no option during lockdown days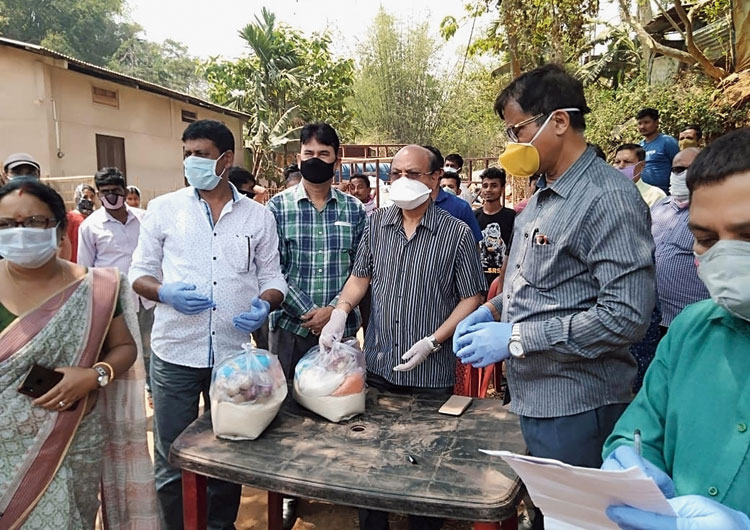 Essential commodities being distribute at Fatasil Ambari in Guwahati on Tuesday.
Picture by UB Photos
---
Guwahati
|
Published 07.04.20, 06:55 PM
|
---
Baba Ghorachowa, a cook of a hotel in Upper Assam's Sivasagar town, returned to his village, around 25km from his workplace, on March 23, the day Assam announced a weeklong lockdown which was later extended by the Centre till April 14.
Since March 23, Baba has been confined to his home like other villagers. With no work at hand and no money in their pocket the only way of subsistence for his four-member family is government's free rice, charity of other individuals and vegetables or herbs in his backyard.
"We got free rice (5kg per head) given by the government at the end of March. After that the zila parishad president, who is from our village, distributed packets containing around 2kg potato, half litre of mustard oil and 1kg salt among us," he said.
Like Baba, lakhs of workers in the state these days have no option but to depend on free rice distributed by the government.
In the last budget, the Ass-am government annou-nced that from April poor families would get rice free under the National Food Security Act (NFSA). Earlier, every family used to get rice at Rs 1 per kg.
The Centre had also sanctioned free distribution of 5kg rice per head for three months which is yet to reach people.
Nearly 80 per cent of Assam's population are covered under the NFSA. Assam's food and civil supplies minister Phani Bhushan Choudhury recently said the state had enough foodgrain to tide over the lockdown period.
"As of now we have received our quota of rice for the month of March. It is a tough time for all of us. No one ever imagined that a disease will affect us this way. Hope things will be okay after a week," Baba said.
Although his village has at least four government employees, charity eludes them. Assam health minister Himanta Biswa Sarma recently announced the government's decision not to cut salaries of government employees. He, however, appealed to government staff to help the poor families during the lockdown period.
There are many workers in the state who do not even have ration cards. Poor women who had Jan Dhan accounts have recently received the first instalment of Rs 500 from the Centre. The district administrations have stepped in when there are people without ration cards.
Assam BJP president Ranjeet Kumar Dass had also appealed to its workers to help out such people.
In Golaghat, some migrant labourers working in brick kilns and some other factories who could not return home and are jobless now are receiving relief items from the administration. "All our fair price shops are distributing free rice," vice-chairman of the Goalpara municipality board, Gopi Ghose, said.
Asked about depositing money in accounts of the poor families, he said: "This will take another two days due to various technical problems."
There are no report of stranded people in Goalpara except those seasonal businessmen who arrive in the state from Kashmir and Bengal to sell their products.
On Tuesday, the police in Dibrugarh had to step in to stop owner of a house from forcing her tenant, a maid, to vacate as she was unable to pay the monthly rent.