Coronavirus directives for Assam tea workers
The total number of workers in tea gardens of Assam is 676,835 as on January 1 this year which includes 385,612 permanent and 291,223 temporary workers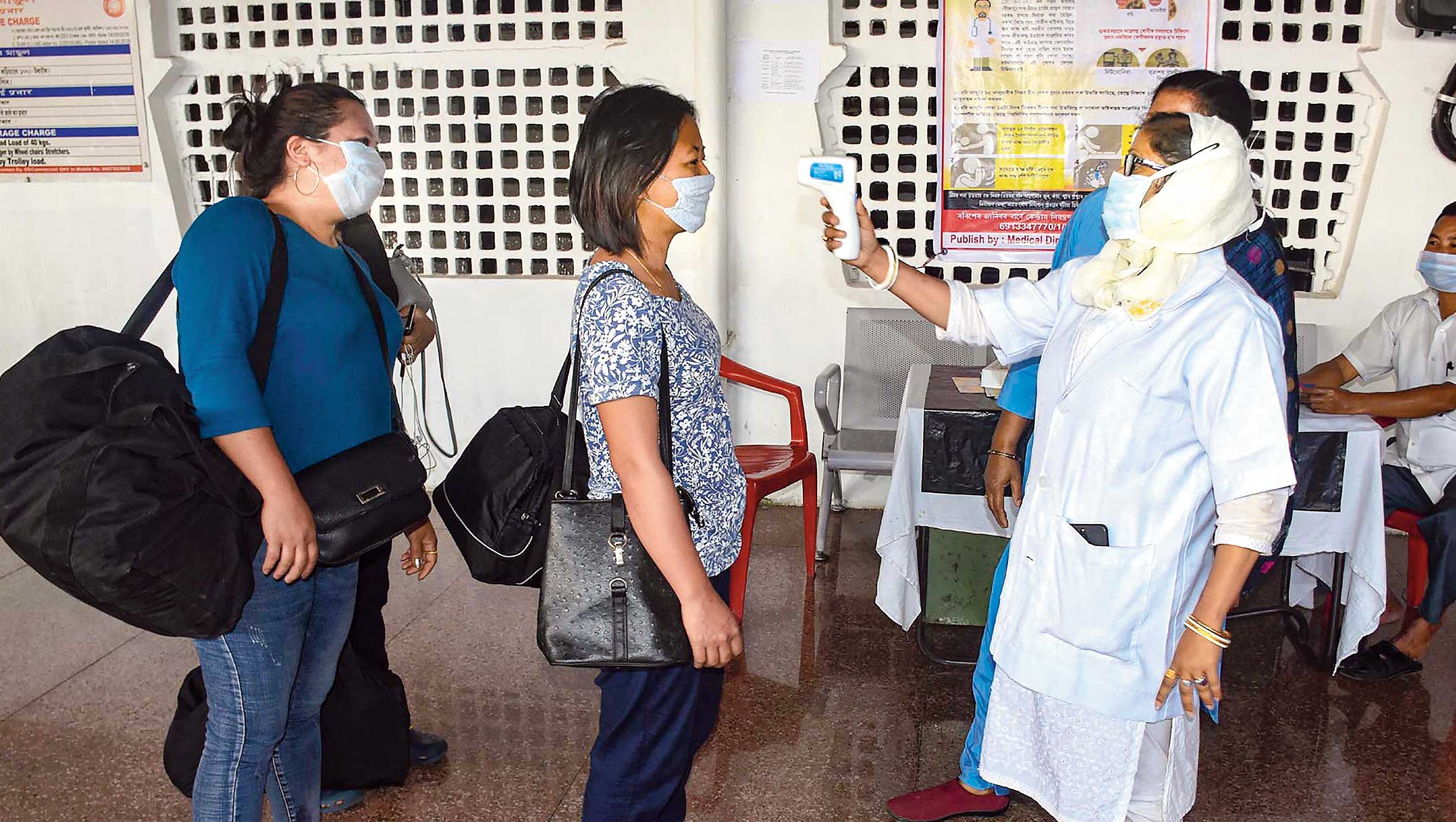 A health worker conducts thermal screening of a passenger at Guwahati railway station on Monday.
(PTI)
---
Guwahati
|
Published 16.03.20, 10:02 PM
|
---
The Assam labour department has issued directives to the tea industry to discourage people travelling to other states from the tea gardens.
These have been issued by the government on Monday regarding precautionary measures needed to be taken for prevention and spread of coronavirus in the tea estates of Assam.
The directives were discussed in detail by senior tea planter and adviser to the North Eastern Tea Association, Bidyananda Barkakoty with minister for tea tribes welfare (independent), labour welfare department, Sanjay Kishan, regarding preventive measures to be taken by the government and the management in tea estates for covid-19.
The directives were issued by the labour commissioner, Assam, on Monday.
The total number of workers in tea gardens of Assam is 676,835 as on January 1 this year which includes 385,612 permanent and 291,223 temporary workers.
The directives say regarding the graveness of the situation faced by the people world over because of the spread of coronavirus, the industry is required to circulate the materials provided in all the tea gardens and make all efforts to make the workers aware of the dangers of the disease and stop any rumour being spread in this regard.
"This will be the best way to prevent the spread of coronavirus," the department said in its note.
According to the directives, awareness needs to be created in labour line and reporting of any suspected case by line chowkidar and health assistant. Awareness banners need to be circulated in the weekly market, a directive says.
"People coming from outside the state or with recent history of travel to be reported," another directive said.
On the health side, the department directed the tea garden hospitals to be in constant touch with the district administrations and joint director health for any assistance.