Cop gives girl's birthday savings
Trinayan Bhuyan donated Rs 40,000 to help the nation fight Covid-19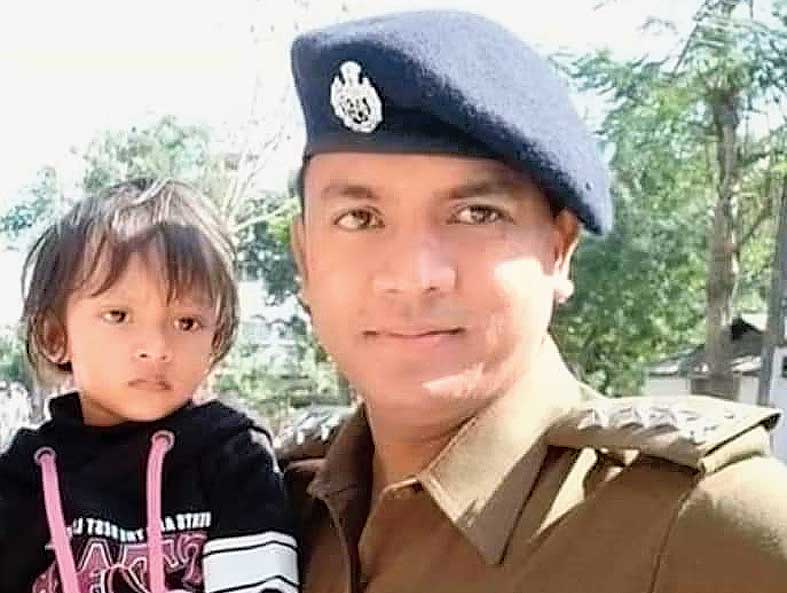 Dhubri DSP (headquarters) Trinayan Bhuyan with his daughter.
(Mukesh Kumar Singh)
---
Dhubri
|
Published 11.04.20, 07:06 PM
|
---
Assam police are not only working round-the-clock in the fight against coronavirus but also contributing to Assam Arogya Nidhi Fund.
Dhubri deputy superintendent of police (headquarters) Trinayan Bhuyan donated Rs 40,000, which he had saved for his daughter's birthday, to help the nation fight Covid-19.
"April 2 was the fourth birthday of my daughter Jisha. She is in Tejpur with her mother. I could not attend her birthday celebration as I am looking after the law and order situation here amid the nationwide lockdown. My family also did not want to celebrate her birthday, adhering to the social-distancing norm," said Bhuyan, who hails from Tejpur but is posted in Dhubri for last two years.
"My wife is always supportive when it comes to help others. This time I have donated Rs 40,000 from my salary which will be deposited to the relief fund to fight against Covid-19," the SP told this correspondent.
"This Covid-19 is the biggest enemy of mankind. As a human being first and then as a police officer, it is my duty to fight against it in whatever way possible. So I decided to contribute the small sum on the occasion of my daughter's birthday."
He said, "We had a few plans for her birthday this year but the not-so-noble novel coronavirus had other plans. So we made little adjustments in our plan and decided to donate to Assam Arogya Nidhi. I am extremely happy about it."
The Assam Arogya Nidhi, also called AAN, provides financial assistance up to Rs 150,000 to below poverty line (BPL) families and to those having a monthly income of less than Rs 10,000 for general and specialised treatments.