CM divulges plans for Jaintia hills
Rs 18 crore had been sanctioned for Iawmusiang project under Non Lapsable Central Pool of Resources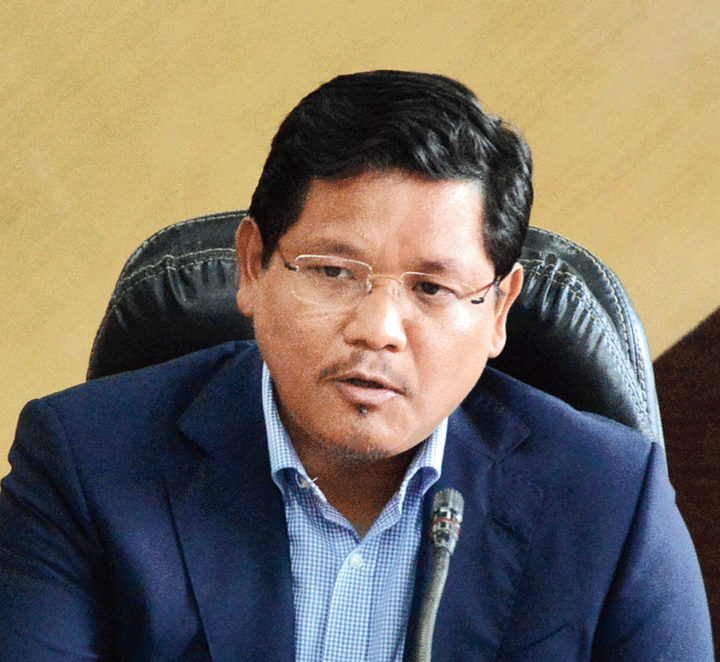 ---
Jowai
|
Published 04.02.20, 07:05 PM
|
---
Meghalaya chief minister Conrad K. Sangma, who chaired a cabinet meeting for the second time outside Shillong on Tuesday, announced initiatives for Jaiñtia hills and the promotion of tourism.
The first cabinet meeting of the MDA government outside the state secretariat, titled Cabinet on the Move, also chaired by the chief minister, was held at Tura in June 2019.
Jowai, the headquarters of West Jaiñtia Hills district, is about 65km from Shillong.
Sangma discussed issues related to pending infrastructure in Jaiñtia hills and Jaiñtia Hills Autonomous District Council (JHADC) in the presence of PWD (buildings) minister Comingone Ymbon and Jowai MLA Wailad Shylla .
He visited the abandoned construction site of Iawmusiang market and the site of Meghalaya Age Festival and said a few decisions on key projects and initiatives for Jaiñtia hills had been taken.
He announced his government's decision to restart the construction of the shopping complex at Iawmusiang and the tourism department's decision to hold a nine-day Meghalaya Age Festival at the picturesque Thadlaskeiñ Lake, tentatively in March, to promote high-end tourism, including cave tourism.
He said Rs 18 crore had been sanctioned for the Iawmusiang project under the Non Lapsable Central Pool of Resources (NLCPR) for development of the Northeast.
"The state government will start the process of funding the project and start the work, and at the same time ask the DoNER ministry to release the remaining Rs 12 crore," he said. The DoNER ministry has already released Rs 6 crore.
"Through the Meghalaya Age Festival, we will brand Meghalaya and invite visitors to experience the state in a different style. We are putting together activities, music and cultural events to make this event memorable," he said.
The highlights of the event will be hot air balloons, caving and glamping. Fifteen five-star luxury tents will be put up by professionals for visitors.
"We want to promote Meghalaya in a very big way and the festival is just the beginning of our ambitious tourism plan," he added.
The state government will showcase achievers from the state in different fields — farming, education, health care, sportsmen, businessmen — and develop stories around them and link their stories with Meghalaya tourism.
Earlier, deputy chief minister Prestone Tynsong said the cabinet had approved the proposal to sanction posts for nine community colleges — Nongstoiñ College, Ri-Bhoi College, Shangpung College, Tirot Sing Memorial College, Jaiñtia Eastern College, Tura Christian College, Chokpot College, Ampati College and Nongtalang College.
Education minister Lahkmen Rymbui said the state government would provide an additional sanction of Rs 16.12 crore but all the posts would be according to the state pay scale and not UGC scale.
Rymbui thanked the chief minister for the government's support despite financial constraints.
Tynsong said the cabinet also approved the proposal of the transport department to have cab aggregators and use bike taxis to solve traffic congestion in Shillong, Tura, and Jowai.