Congress falls back on AASU chant
The Assam PCC leaders and MLAs were also seen wearing gamosas around their neck and head at the rally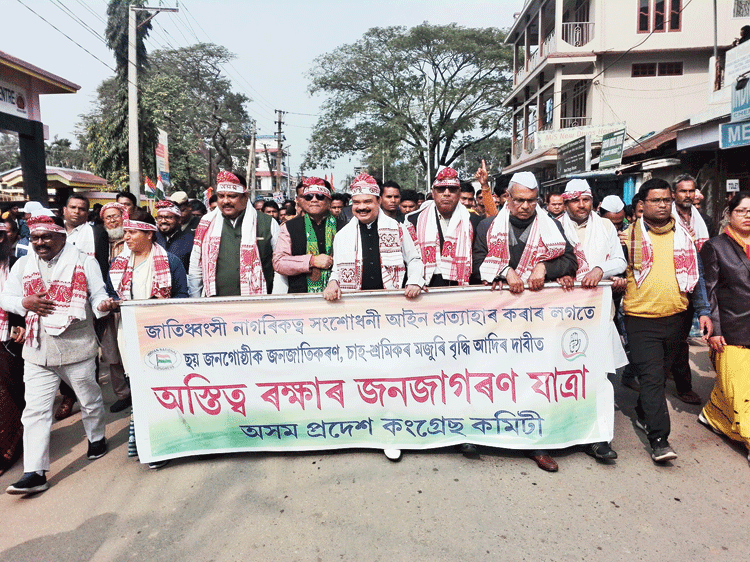 Congress leaders march against the citizenship act in Goalpara on Monday
Sourced by The Telegraph
---
Goalpara
|
Published 06.01.20, 08:36 PM
|
---
Popular Assamese slogans, invented and used by the All Assam Students Union (AASU) in rallies to rouse enthusiasm among its activists, were used by the Congress during its demonstration against the Citizenship Amendment Act (CAA) here on Monday.
The Assam PCC leaders and MLAs were also seen wearing gamosas around their neck and head at the rally.
Slogans like "Joy Aai Axom (Long live Mother Assam), Sarbananda Lei Lei Sei Sei (Go away Sonowal)" and "Tumi Jodi Axomiya… (If you were an Assamese)" were heard at the rally where Assam PCC president Ripun Bora and other leaders like Rokibul Hussain, Ajanta Neog, Bobeeta Sarma and Nurul Huda, among others, participated.
A senior Congress leader said, "This is first time in my life that I heard such 'hired slogans' in the party rally."
The rally that began from the district Congress office ended at a playground near the local Congress MLA A.K. Rasid Alom's residence followed by a meeting.
"The rally should have demonstrated strength before the deputy commissioner's office and convey a message to the government," added the leader.
Another party leader expressed displeasure over a fellow leader's appeal to the gathering to re-elect Alom in the next Assembly election. "This is not an election campaign, but a rally against the CAA," he added.
Local AASU leader Bedanta Kashyap said, "The Congress has lost all its slogans and copying our way of agitation. They should look back and reflect on what they did to prevent infiltration in the state.
"There is no difference between the Congress and the BJP. They shouldn't try to make people emotional and reap benefit out of the CAA issue. There is no rights claim over slogans. Any organisation can use them," Kashyap added.