Concern over high incidence
Northeastern states join hands with rest of the world to observe cancer day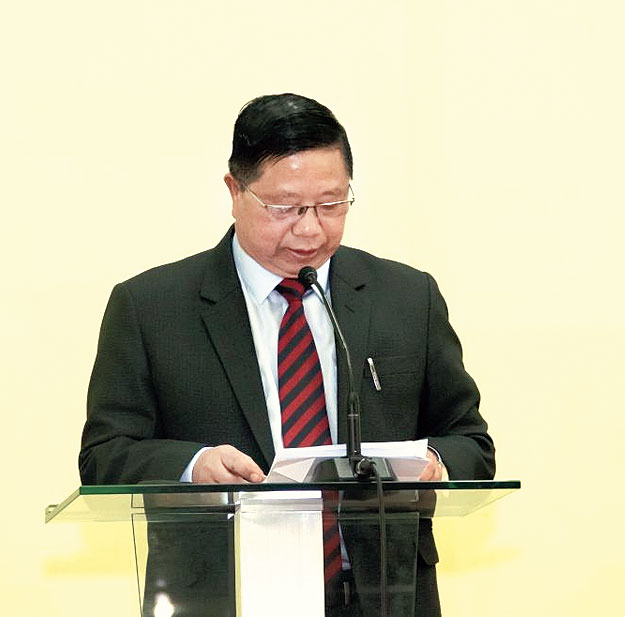 R. Lalthangliana speaks at the event
Telegraph picture
---
Aizawl
|
Published 04.02.20, 07:09 PM
|
---
Mizoram on Tuesday joined the world in observing World Cancer Day to spread awareness against the deadly disease.
The main observance function here was graced by health minister R. Lalthangliana.
Lalthangliana said the state continues to occupy first place in cancer incidence in the country despite massive efforts made by the government. He said at least 2,176 people, including 830 women, have died from the deadly disease from 2012 to 2014, quoting the latest Population-Based Cancer Registries (PBCR) released in 2016.
More than 4,600 cancer cases were detected during the same period, which manifested that the growth is extremely "alarming," he said.
In order to cater to the needs of the people, said Lalthangliana, the government would establish a cancer speciality hospital here.
The proposed project, which will cost Rs 500 crore, is expected to be one of the best cancer hospitals in the country, he said. He added that Japan International Cooperation Agency (Jica) has agreed to undertake the project.
Branded a "cancer state," Mizoram holds the top position in cancer across all sites for men and women, tongue cancer (men), lung cancer (men and women), stomach cancer (men and women), hypopharynx cancer (men), and gland cancer (men), according to the PBCR published in 2016.
It also topped the list in cervix cancer in women in the country.
It has been estimated that on average at least 725 people die every year due to cancer and three persons are diagnosed every day in Mizoram.
State nodal officer for non-communicable disease, Dr Eric Zomawia, said extensive consumption of tobacco (whi-ch contributed more than 30 per cent to incidence), coupled with unhealthy food items such as smoked meat, fermented soya bean and pork, are the main factors for the high cancer rate in Mizoram.
Organised by the Union for International Cancer Control (UICC), World Cancer Day is observed across the world every year.
This year, "I am and I will" is the theme and it acknowledges that everyone has the capacity to act in the face of cancer.
The World Cancer Report said according to the estimated cancer burden in India in 2018, there are about 1.16 million new cancer cases, 784,800 cancer deaths, and 2.26 million five-year prevalent cases in India's population of 1.35 billion.