CM Sarbananda Sonowal: Act reality to be exposed soon
Sonowal said the BJP would give a fitting reply to anti-CAA protesters through development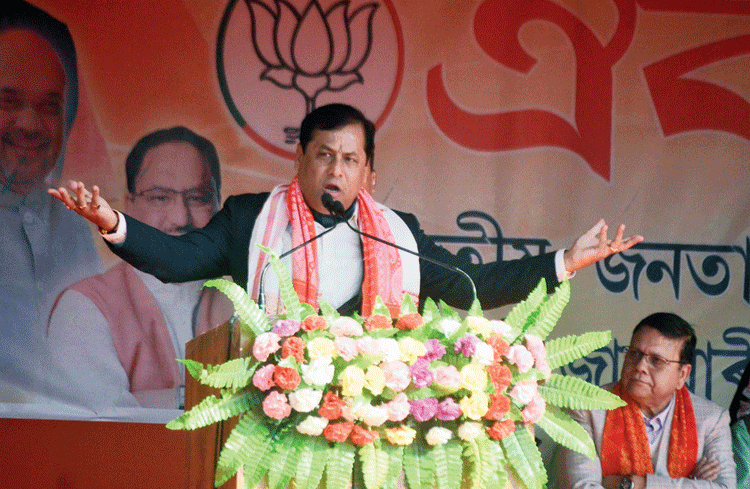 ---
|
Guwahati
|
Published 07.01.20, 06:39 PM
---
Assam chief minister Sarbananda Sonowal, holding the Congress responsible for the death of 860 people during the Assam Movement, on Tuesday said the "reality" behind the anti-Citizenship Amendment Act (CAA) movement would be exposed soon.
Participating in a peace and development rally organised by the BJP and its allies at Kamalakanta Khetra in Biswanath town, Sonowal said the people of Assam were intelligent enough to understand the truth behind the anti-CAA protests.
"Those (anti-CAA groups) who are now questioning us about our intention should have asked the questions to the Congress. It was the Congress during whose regime influx from Bangladesh continued unabated and 860 Assamese people were killed while seeking a solution to influx," he said.
"Rumours, like the government will settle outsiders in the rural and tea garden areas, are being spread. But I am sure that the people of Assam are intelligent enough to understand what the truth is and what is a lie. Their conspiracy will be exposed soon. Assam will remain in the hands of the Assamese only," he said.
Asking party workers not to lose heart because of the protests against the party, Sonowal said the BJP would give a fitting reply to anti-CAA protesters through development.
Reiterating Prime Minister Narendra Modi's slogan Sabka Saath, Sabka Vikas, Sabka Vishwas, and playing the development card, Sonowal said Biswanath Chariali would soon get a medical college. He said the people on the north bank would get another bridge, connecting Gohpur with Numaligarh, over the Brahmaputra and the work will start within two months. The construction of Kolia Bhomora second bridge over the Brahmaputra will be completed next year, he added.
Finance minister Himanta Biswa Sarma said, "We invited All Assam Students' Union adviser Samujjal Bhattacharjya for talks but he wants to talk with the Prime Minister. To sit with the Prime Minister, he has to enter parliamentary politics. We invite him to join the BJP."
The meeting was attended by Assam BJP president Ranjeet Kumar Dass, Tezpur MP Pallab Lochan Das, Lakhimpur MP Pradan Baruah, minister Ranjit Dutta and several BJP MLAs from Sonitpur and Lakhimpur districts. After the meeting, a peace rally was taken out from Kamalakanta Khetra till the national highway, a distance of 1km.
About 2km from the BJP rally venue, anti-CAA protesters held a meeting at Kamalakanta Natya Samaj. It was attended by over 400 people, who appeared not to be convinced by government assurances that Assamese society is not under threat.
Responding to Sonowal's allegation, PCC spokesperson Rhituparna Konwar said, "It's the chief minister who is misleading the people of the state. Had he respected the martyrs of the Assam Movement, he wouldn't have violated the Assam Accord, which is the outcome of the movement, and brought in CAA.
Additional reporting by our correspondent in Tezpur