Clause 6 report in 15 days: Panel
The Assam Congress had claimed that the move to implement Clause 6 would boomerang for the government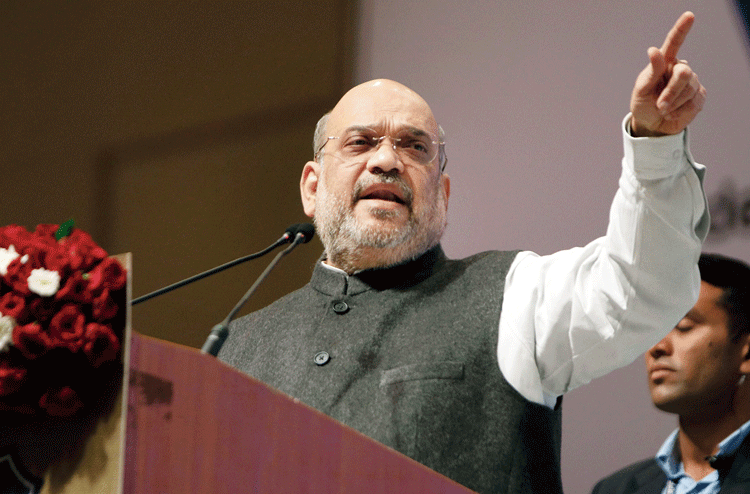 ---
|
Guwahati
|
Published 13.01.20, 09:10 PM
---
The high-powered committee on implementation of Clause 6 of the Assam Accord on Monday announced that its final report will be ready in a fortnight.
The chairman of the committee, Biplab Kumar Sarma, a retired judge, announced this after a meeting with Union home minister Amit Shah in New Delhi on Monday morning.
Besides Sarma, the committee had three other members —Ramesh Borpatragohain, Mrinal Miri and Subhash Das.
The Union home ministry had constituted the high- powered committee in July last year to suggest how to implement Clause 6.
It was given six months to submit a report. Sarma said the meeting was held to take suggestions from the Centre. Before that, Sarma said, they had taken suggestions from different stakeholders, including the state government.
"We had to take suggestions from the Centre. Today the Centre gave its suggestions in a cordial atmosphere," he said.
After the hour-long meeting, Sarma told reporters in New Delhi that after returning to Assam, the committee will sit with other 10 members on Thursday and then finalise the report.
"In preparing such a report, some points seem to be minor but are necessary. We did not seek an extension to submit the report. We hope it will be ready within 15 days," he said.
The meeting was supposed to be held on Sunday evening. It was postponed till Monday morning as Shah reportedly was preoccupied.
Clause 6 of the Assam Accord promises constitutional, legislative and administrative safeguards to protect, preserve and promote the culture, social, linguistic identity and heritage of the "Assamese" people.
Several attempts have been made so far to arrive at an acceptable definition of the term Assamese, including one by former Speaker of the Assembly Pranab Gogoi, but in vain.
Sarma on Monday ruled out taking the year 1971 as a cut-off date for identification of Assamese people as has been demanded by some organisations and political parties like the All India United Democratic Front (AIUDF). "The year 1971 is for identification of foreigners only," he said.
The Assam Congress on Sunday had claimed that the move to implement Clause 6 would boomerang for the government without defining the term Assamese.
In a news conference, PCC president Ripun Bora accused the committee of deviating from the original terms of references set by the Union home ministry and talking about three types of indigenous people to replace the word Assamese.
The leaders of the All Assam Students' Union (AASU), who are dissatisfied with the passage of the Citizenship (Amendment) Bill in Parliament and have been heading an anti-CAA protest in the state, decided to skip the meeting.