Clause 6 of Assam Accord panel to gather feedback
Steps to protect Assamese identity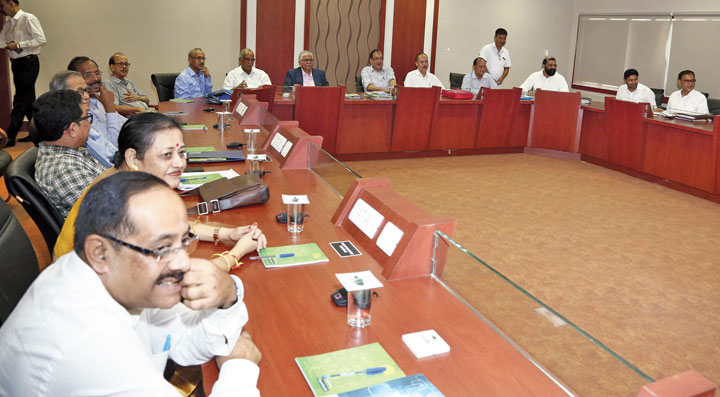 ---
|
Guwahati
|
Published 19.10.19, 07:08 PM
---
The high level committee on Clause 6 of the Assam Accord on Saturday launched the process of gathering feedback and suggestions from the public on the constitutional measures to be taken to protect the Assamese people.
The Justice (retired) Biplab Kumar Sarma-headed 12-member committee held the first of its consultation with senior journalists at the Assam Administrative Staff College here for over three hours and will follow this up with back-to-back meetings with Sahitya Sabhas (October 29), leading apolitical organisations (October 30 and November 2) and recognised political parties (November 3).
Saturday's interaction saw journalists from print and TV freely air their opinions, most wanting to know whether the committee's recommendation would be acted upon given past experiences of such committee reports lying in cold storage or never seeing the light of day. Secondly, they also conveyed their apprehension over the relevance of the committee's recommendation if the Centre gets the contentious Citizenship Amendment Bill passed.
The media representatives also suggested that the committee should recommend the definition of who is an "Assamese" for whom Clause 6 of the Accord envisages appropriate constitutional, legislative and administrative safeguards to protect, preserve and promote the cultural, social, linguistic identity and heritage of the Assamese people.
The senior journalists even suggested cut-off dates ranging from 1826 to 1951 to decide who is an "Assamese" because reservation for seats or jobs will not work unless who is an Assamese is defined. Few also urged the committee members to visit the neighbouring states and see what Mizoram or Arunachal Pradesh or Manipur was doing for protection for the local populace from influx.
Committee chairman Justice Sharma was seen duly noting the suggestions and even asking for the written submissions. He said so far the committee has received over 1,000 memoranda from organisations and individuals on the kind of protective measures to be recommended. So far the committee members have had held seven meetings. Friday's was the eighth and first outside the committee.
"Today we started the consultation process and the second phase will start from October 29. The interaction was very positive and we came to know a lot of new things. After the second phase we also plan to go out and meet a few influential individuals and get their opinions. Then we will meet legal experts before finalising our report," said AASU president Dipanka Kumar Nath, a member of the committee said.
The other members of the committee are Ramesh Borpatragohain, advocate-general, Assam; Niloy Dutta, advocate-general, Arunachal Pradesh; former additional chief secretary Subhash Das; former ADGP Pallav Bhattacharya; former professor Srishtidhar Dutta; author Sumanta Chaliha; columnist Jaikanta Sharma; senior journalist Wasbir Hussain and MHA joint secretary (Northeast) Satyendra Garg who was not present at the interaction.
Senior officials of the Assam Accord department, including Parbati Thaosen, were also present in the meeting.