Call to save Guwahati wetlands
Rapid urbanisation, unplanned infrastructure and land encroachments causing degradation of wetlands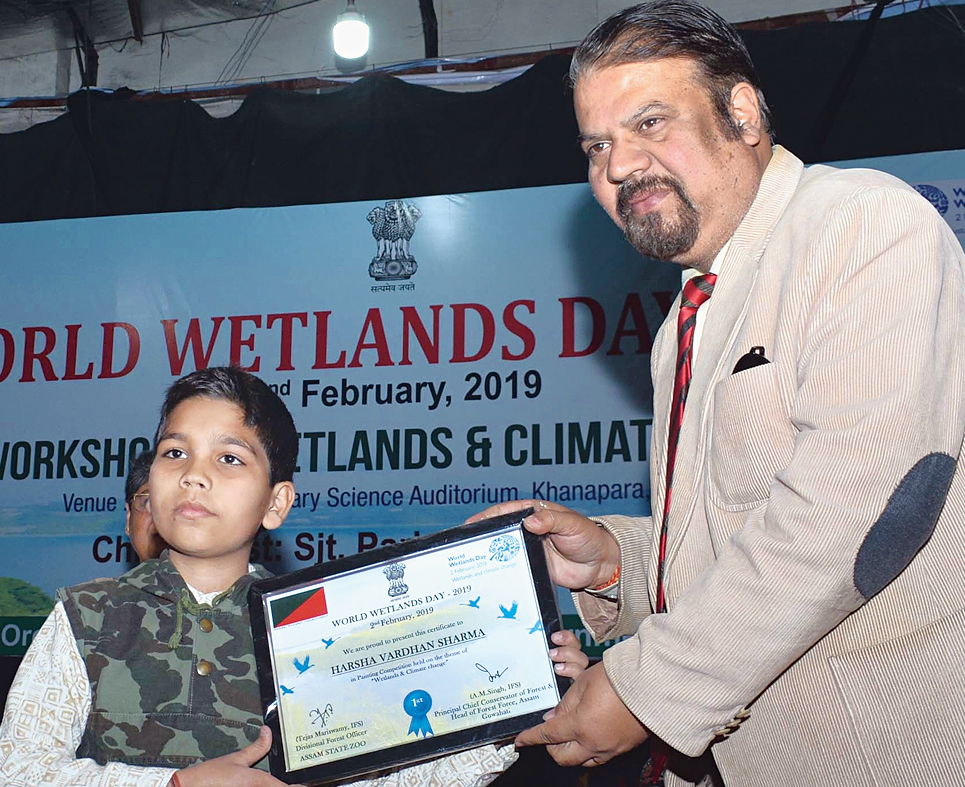 Arup Kumar Misra in Guwahati on Saturday.
Picture by UB Photos
---
Guwahati
|
Published 02.02.19, 08:52 PM
|
---
Unplanned urbanisation has led to degradation of wetlands and artificial floods, besides groundwater depletion in the city, experts said on Saturday at an workshop on wetlands and climate change organised by the Assam forest department to observe World Wetlands Day at the College of Veterinary Science auditorium here.
The day is celebrated across the globe on February 2 — the date of adoption of the Convention on Wetlands on February 2, 1971.
"Rapid urbanisation in Guwahati has led to degradation of its wetlands. Due to this, the city also faces floods and the level of groundwater has depleted. The city once had large areas covered by the wetlands, but unplanned infrastructure and land encroachments have caused degradation of those wetlands," special principal chief conservator of forests (PCCF) (wetlands) Ranjana Gupta said at the workshop.
"There are around 7,313 wetlands in Assam, but now there are only around 600 registered lakes and ponds. These cover 0.2 per cent of total geographical area of the state. Wetlands are unique ecosystems which provide water and habitat for a diverse range of plants and animals," Gupta added.
The chief guest, retired PCCF Hiranya Choudhury, said: "Guwahati cannot be freed of floods because there is no space for flow of rainwater. The wetlands serve like shock absorbers and filter to improve water quality. Deepor Beel is an example of such wetlands which have degraded over the years."
Director of Assam Science Technology and Environmental Council (ASTEC), Arup Kumar Misra, said: "Unchecked population growth remains a major challenge for researchers and us to conserve the wetlands from human interference. These wetlands have the power to choke carbon dioxide ."
"There should be lot of emphasis on the need to save the wetlands from degrading. Deep water boring in the city leads to depletion of the water level everyday," he added.