Call for more pumps to drain out water for trapped coal miners
5 pumps already being used to drain out water but the NDRF personnel need at least 10 more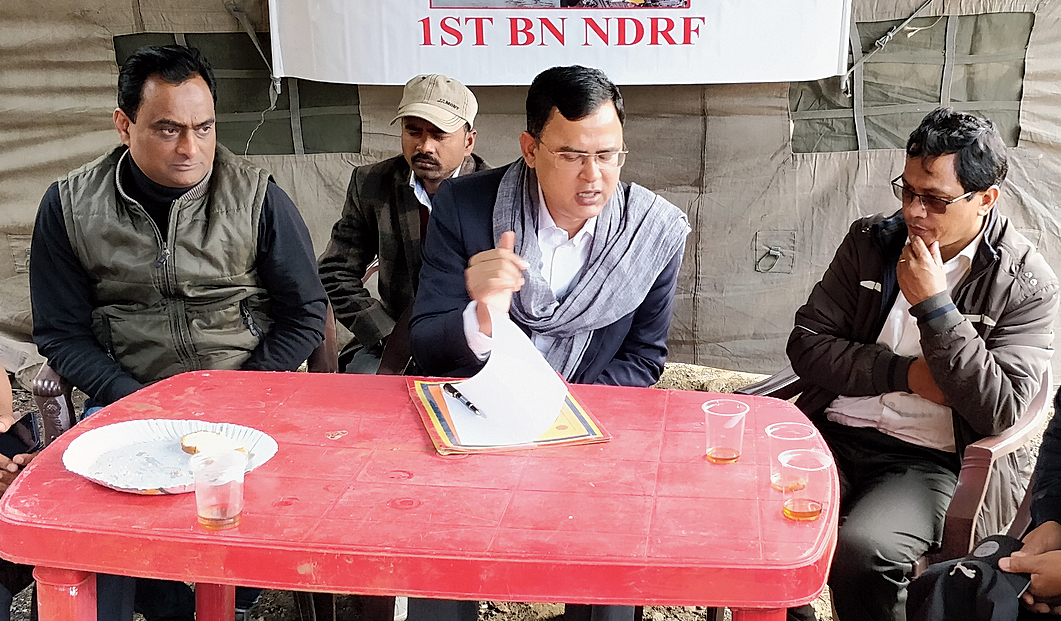 Rajabala MLA Azad Zaman (centre) holds a meeting with NDRF and East Jaintia Hills officials at Ksan on Sunday.
The Telegraph picture
---
Published 16.12.18, 07:12 PM
|
---
Water has become the biggest obstacle for search and rescue personnel camping at the site in Meghalaya where at least 13 miners are trapped in a coal mine since Thursday.
The coal mine at Ksan near the Lyteiñ river under Saipung police station in East Jaintia Hills district is more than 320 feet deep while the water inside is around 70 feet deep.
At least five pumps have been pressed into service to drain out the water but the National Disaster Response Force (NDRF) personnel need at least 10 more.
Congress legislator Azad Zaman, who travelled to the coal mine on Sunday, about 160km Shillong, to take stock of the situation, requested the East Jaintia Hills administration to requisition more pumps as hopes of survival of the 13 miners began to recede.
Zaman travelled to the area as around five of the 13 miners hail from his Rajabala constituency in West Garo Hills. On Monday, he is planning to meet chief minister Conrad K. Sangma in Shillong along with the families of the trapped miners.
"After taking stock of the situation, the NDRF advised that at least 10 more pumps should be used to drain the water from the mine or it will not be possible for its personnel to go inside," the legislator said.
NDRF assistant commandant S.K. Singh, who is heading the operations, had said on Saturday that there was some glimmer of hope as the water had receded by at least 15 feet.
However, on Sunday morning, to their dismay, the water rose to the previous day's level.
"It is risky for our divers to go beyond 30 feet. We need to bring the water level down before we can go inside," he said.
On the chances of survival of the miners, he said, "If they are trapped in the main tunnel, there is less possibility. But if they are trapped in the lateral rat mines, and if there is air cavity there, they might survive. We will not lose hope."
East Jaintia Hills deputy commissioner F.M. Dopth said more pumps will be requisitioned and help from locals who have the experience of working in such mines had been sought.
Superintendent of police Sylvester Nongtnger said the exact number of people trapped inside the mine can be ascertained only after questioning its arrested owner Jrin Chulet. The coal mine owner was arrested on Friday night.
Although it was reported that there were 13 of them, but some said there could be more.