Pledge to save Constitution
Participants vowed to safeguard the social fabric of India as embedded in Preamble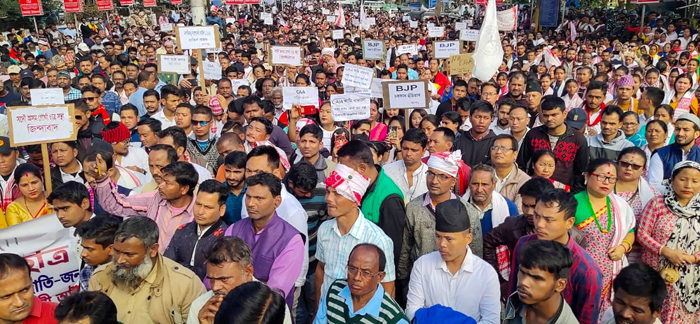 ---
|
Guwahati
|
Published 26.01.20, 06:32 PM
---
Members of over 30 organisations participated in an open-air meeting on Sunday to save the Constitution, ironically on a day it came into effect in 1950.
The meeting was organised by the Coordination Committee Against Citizenship Amendment Act in which legal experts, artistes, cultural activists and politicians spoke at Lakhidhar Bora Kshetra here for over three hours against the "unconstitutional" Citizenship (Amendment) Act.
All speakers wanted the Act scrapped as it not only posed a threat to the identity and existence of the indigenous Assamese but also strikes at the secular fabric of the Constitution. They called for a united and peaceful agitation against CAA and also the release of those arrested, including KMSS leader Akhil Gogoi, after anti-CAA protests broke out in December.
The participants took a pledge to save the Constitution and safeguard the social fabric of India as embedded in the Preamble, which was read out at the meeting.
Committee president and litterateur Hiren Gohain said the BJP-led central and state governments are rapidly taking the country towards "total tyrannical rule" at the cost of the basic structure of democracy and the identity of indigenous population in Assam. Gohain compared the BJP governments to the pre-Independence British rulers in its authoritarian ways.
Senior advocates K.N. Choudhury, Arup Borbora, H.R.A. Choudhury, Assam PCC president Ripun Bora, CPM leader Hemen Das, Dibrugarh University Students Union general secretary Rahul Chetry and senior journalist Ajit Bhuyan also participated.
"The government has forgotten what is written in the Constitution and the history of Assam. It has forgotten the meaning of secularism, equality and fundamental rights. It is just following the RSS. This government has to be ousted," Chetry asserted.
Borbora said, "CAA is the direct sign of a Hindutva state."