BJP will ruin Mizo culture: Rahul Gandhi
National parties step up campaign in Mizoram, the last Congress bastion in the Northeast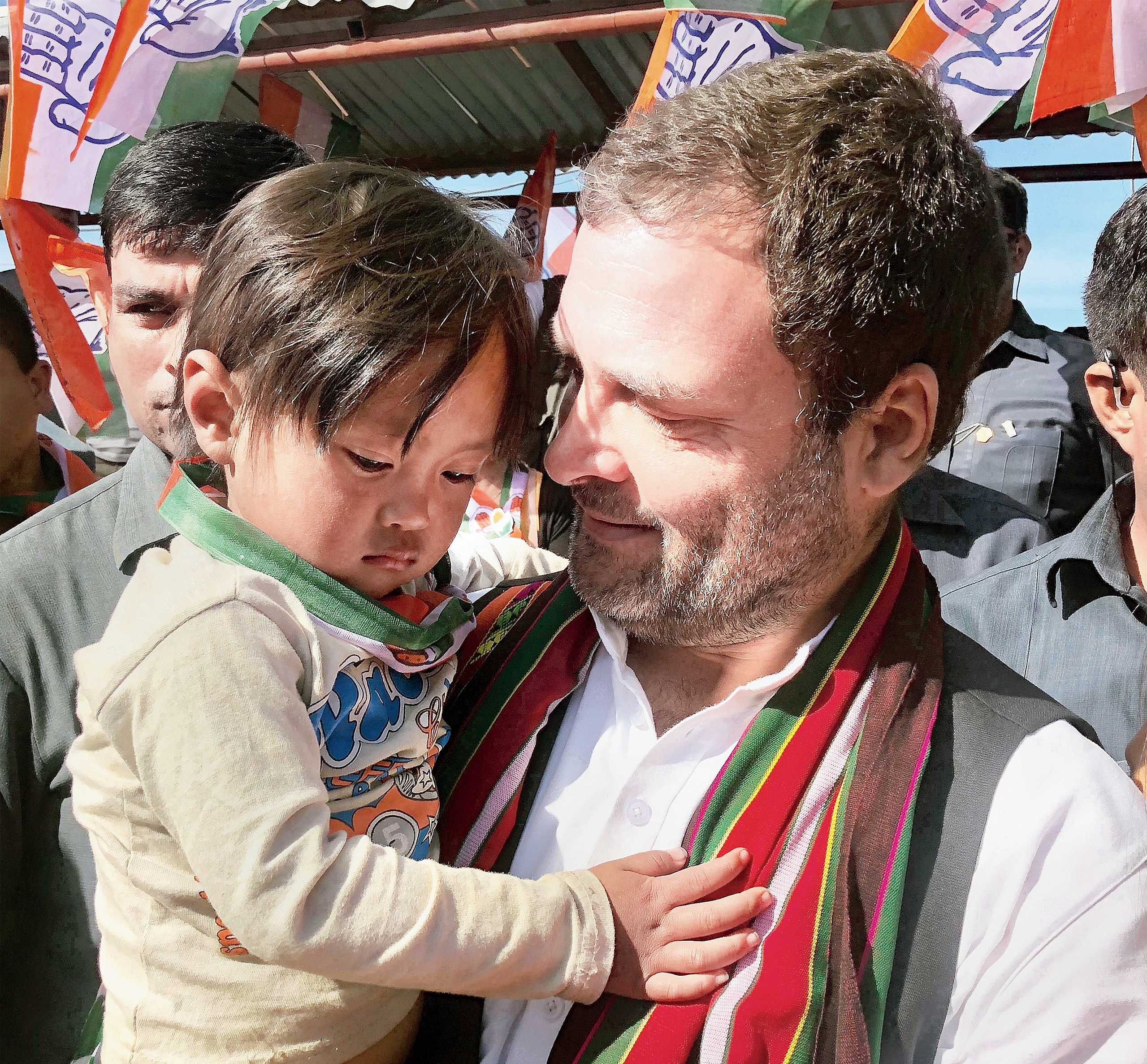 Congress president Rahul Gandhi holds a child during an election rally in Champhai in Mizoram on Tuesday.
PTI
---
Aizawl
|
Published 20.11.18, 06:22 PM
|
---
Congress president Rahul Gandhi on Tuesday launched a scathing attack on the BJP and Rashtriya Swayamsevak Sangh (RSS), accusing them of trying to sabotage the prospects of the Congress and destroying the identity, culture and traditions of the Mizos.
The Congress president arrived in Mizoram on Tuesday and addressed his first poll rally in south Mizoram's Champhai near the Myanmar border. He later addressed another rally here.
Addressing a public rally at 3rd Mizoram Armed Police ground at Mualpui here, Rahul said, "The BJP is trying to impose an ideology to crush the aspirations, culture, traditions and religion, including that of the Mizos. No matter how much the BJP and RSS try to sabotage the Congress prospects, the people of Mizoram will vote the Congress to power. I am confident that the people would never allow the BJP to destroy their culture and identity," he said.
Rahul was accompanied by AICC general secretary in-charge of the Northeast Luizinho Faleiro, Congress secretary in charge of Mizoram Bhupen Kumar Borah, chief minister Lal Thanhawla and senior party leaders.
Rahul claimed that the Congress believed all Indians have the right to protect their culture, language and history. "We will protect your religion, culture, languages and traditions. This is your choice and we are going to protect your choice," he said. The Congress president said the BJP would be rejected by the people in the 2019 Lok Shabha elections.
Rahul also blamed the Opposition Mizo National Front (MNF) for allegedly opening the doors to the BJP. He alleged that both parties had made a secret poll pact. "By working with the BJP, the MNF is damaging Mizoram".
He said 11,000 new jobs would be created in one year if the Congress is voted to power. He said Mizoram would be made the centre for border trade and the state connected with the rest of the country. He recollected his visit to the state with his father, former Prime Minister Rajiv Gandhi, in 1987. "In 1987, my father toured the state to deliver to the people a peaceful future. I think only unity, love and affection can bring progress in the state," he said.
The Congress government, under the leadership of chief minister Lal Thanhawla, has brought economic development and raised the income of the people because over the last 10 years the state's per capita income has doubles and has increased to 21 per cent against the national average, he added.
Mizoram is the last Congress bastion in the Northeast.