BJP-AGP tie-up to help Congress: Gogoi
'Party most firm and only political voice against Citizenship (Amendment) Bill, 2019'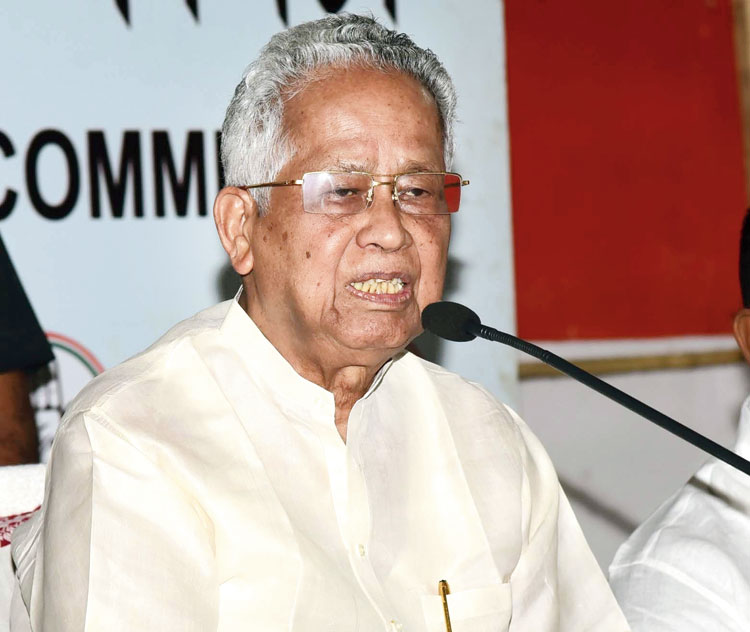 Former Assam chief minister Tarun Gogoi in Guwahati on Thursday
Picture by UB Photos
---
Guwahati
|
Published 14.03.19, 06:30 PM
|
---
Former Assam chief minister Tarun Gogoi on Thursday said the renewal of the alliance between the BJP and the AGP will work in favour of the Congress in the Lok Sabha polls as it has emerged as the "most firm and only political voice" against the Citizenship (Amendment) Bill, 2019.
"During the protests against the bill, the Congress and the AGP were the strongest voices among political parties. But the AGP has lost its ground by renewing its alliance with the BJP. I am confident the people of Assam, who had opposed the bill, will vote for the Congress, for being firm against it," Gogoi said at Rajiv Bhawan here.
The bill, which envisages granting citizenship to six religious minorities from Bangladesh, Pakistan and Afghanistan, lapsed in the last session of Parliament but the BJP had announced publicly to push it if it retains power after the polls while the Congress has decided to oppose such a move.
Gogoi said the BJP-AGP alliance was "necessary" because the BJP had "grown weak" and "incapable of winning without allies. The BJP, which won seven seats on its own in 2014, is now seeking the help of the AGP, which contested the panchayat polls alone and then pulled out of the alliance. The BJP has realised it won't be able to form a government on its own," he said.
That Congress would make the bill the cornerstone of its campaign has become evident from the reactions of Gogoi and CLP leader Debabrata Saikia but it would still take some doing to improve its tally of three seats in 2014. A triangular or a quadrangular contest would have suited the Congress best, party insiders said.
"However, our performance will to a large extent depend on how we can successfully tap the anger against the betrayal of the AGP, and of the BJP supporters on the AGP's flip-flop over the bill," one of them said.
A major part of the Congress campaign has been directed towards showcasing its efforts in compelling the BJP from not tabling the bill in the Rajya Sabha as a "victory" against the "anti-constitutional bill".