Bird sanctuary in textbooks
Sivasagar habitat reaches school students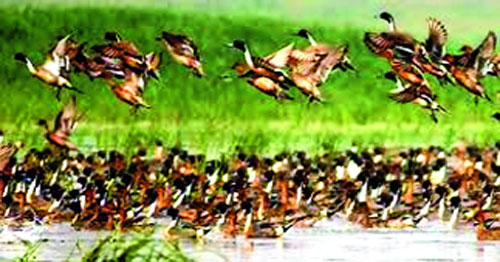 ---
|
Bokakhat
|
Published 06.01.20, 11:39 AM
---
There is good news for the residents of Sivasagar district in Upper Assam as the Panidihing bird sanctuary has been included in the textbooks of elementary education looked after by the state education department.
The third bird sanctuary of the state in the southwest part of the district finds a mention in Class VIII textbooks of the next academic session.
Sunbeam English Reader-III, a textbook prepared by the State Council of Educational Research and Training (SCERT), Assam, under the National Council of Educational Research and Training (NCERT), for Class VIII starts with the chapter The Princes of Panidihing.
It speaks of a brave girl who saved herself by rowing a boat in Panidihing reserve forest during floods.
The floods washed away the embankment of Chitalia village, adjacent to the reserve forest. The lesson helps to build children's concern over environment protection and reserve forests from childhood. "The lesson will definitely contribute a lot for generating awareness about nature conservation among the children," the president of AASHRAY, a frontline organisation working for nature conservation, Biren Ch. Saikia, said.
In the fourth chapter, in Dokchory Learn About the Panchayat, there is a mention of Disangmukh Janajati High School (DJHS), a premier school in the district, on page 49.
Through the story, Kongke Mili, the father of Dokchory, takes her to DJHS on a bicycle.
Replying to a question by his daughter, he explains the aims, objectives and the activities of a panchayat.
The life and challenges of a differently abled girl is explained in the 10th chapter, Pratyahban, in the Class VII textbook Ankuran.
On page 77, the girl Princi Gogoi of Sonari, overcomes all obstacles which definitely will encourage students to overcome disability from childhood. Depictions of monuments, village, school or person in textbooks have widely been appreciated by residents of the district.
According to them, these will help shape the students' love for a better environment.