Belated Id for Sanaullah kin
Kargil veteran returns home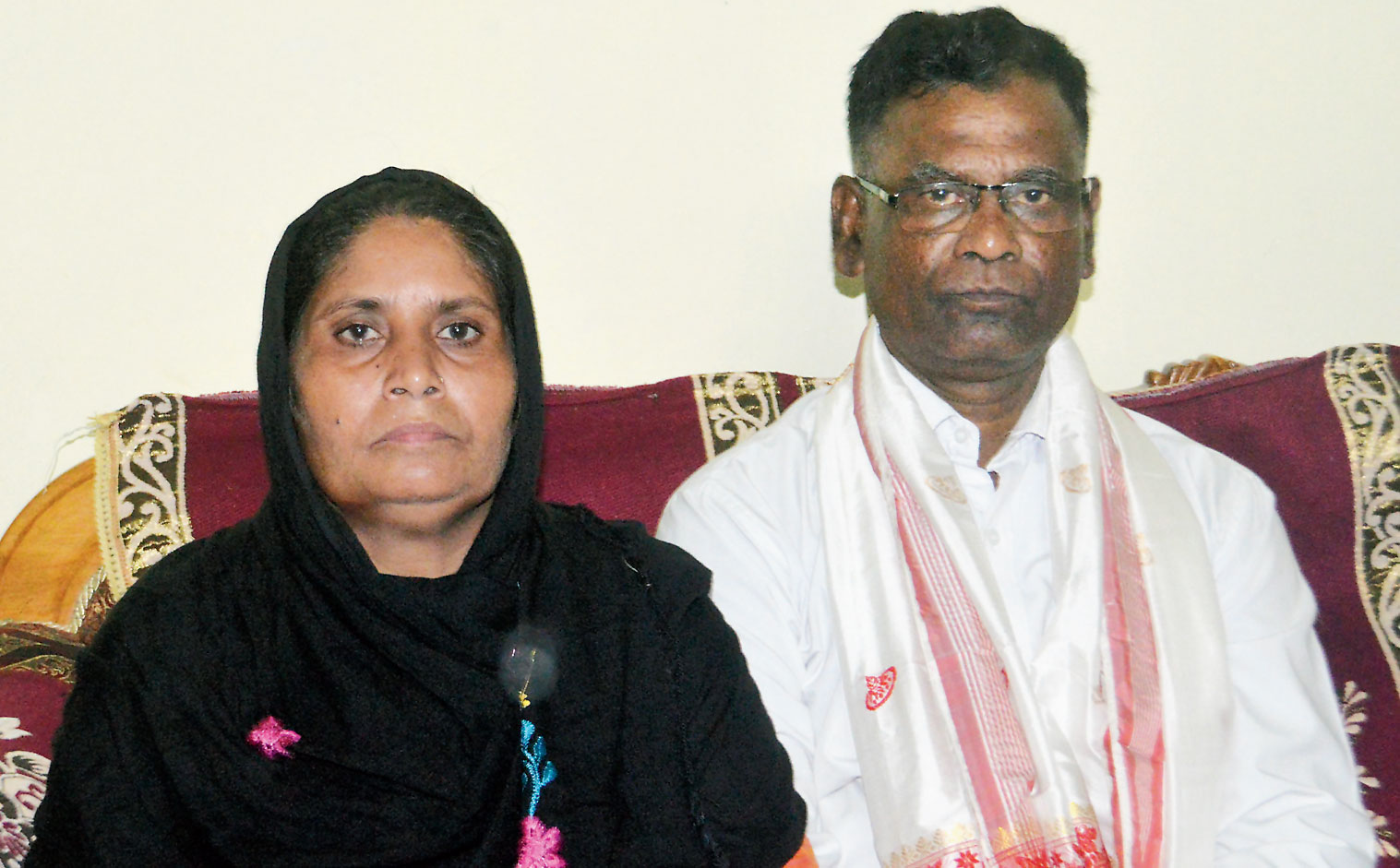 ---
Guwahati
|
Published 08.06.19, 07:03 PM
|
---
Kargil War veteran Md Sanaullah walked out a free man on Saturday after spending 10 days at Goalpara detention centre.
He was released after Gauhati High Court granted him interim bail on Friday. Sanaullah was sent to the detention camp on May 29 after he was declared a "foreigner" by a foreigners tribunal at Boko in Kamrup district on May 23.
He was garlanded and felicitated with gamosa by members of Chatra Mukti Sangram Samitee (CMSS), All Assam Minority Students Union (AAMSU) and All India United Democratic Front (AIUDF) outside the detention centre at Goalpara.
A police team brought him to the office of the Kamrup superintendent of police at Amingaon from Goalpara at 10.30am. "Police collected the biometrics of the iris of both eyes and fingerprints of both hands and also conducted his medical examination before releasing him at around 4pm," said Md Ajmal Haque, a retired junior commissioned officer of the army and Sanaullah's cousin.
He was released on furnishing a bail bond of Rs 20,000 with two sureties.
Sanaullah was received by his family members and well-wishers when he stepped out of the Kamrup superintendent of police's office. "I am thankful to the high court for granting me bail," he said.
From Amingaon, he went to his residence at Satgaon in the city and turned emotional on meeting his wife Samina Begum and three children — Shahnaz Akhtar, Halmeen Akhtar and Shayeed Akhtar.
"I had fasted during Ramazan but did not celebrate Id since he was not with us. His release from the detention centre is an Id gift for us and we will be celebrating belated Id today," his wife said.
People at his native village Kalahikash at Boko in Kamrup district also celebrated his release by bursting crackers.
Sanaullah is hopeful that eventually the court will declare him an Indian citizen.
He has challenged the tribunal order in the high court, which had issued notices to the respondents on Friday, asking them to file replies to his petition within four weeks.
The respondents named in the case are the central government, represented by the secretary to the ministry of home affairs, the Election Commission of India, represented by the Chief Election Commissioner, the Assam government, represented by the commissioner and secretary of the home department, the deputy commissioner of Kamrup district, the superintendent of police (border), Kamrup, the state coordinator of NRC, the defence secretary in the ministry of defence, the general officer commanding-in-chief of the army's eastern command and former sub-inspector (border) of Boko police station, Chandramal Das, who had investigated the case.
Sanaullah had claimed that Das neither visited his house nor served any notice to him to produce any document to prove his nationality. He also alleged that the inquiry report submitted by Das was false and fabricated.
Senior Supreme Court lawyer Indira Jaising had appeared for Sanaullah in the high court on Friday.
"No citizen of India should be harassed or illegally detained. Proud to be part of the legal team comprising senior advocate H.R.A. Choudhury, advocate Burhanur Sayeed and advocate Aman Wadod," Jaising tweeted on Saturday.
In Goalpara, executive president of CMSS Hussain Ahmed Madani demanded release of all genuine Indians wrongly detained at camps because of misrepresentation of documents.
"We have felicitated Sanaullah because he has won the battle of injustice done to him. But what about thousands of Sanaullahs who despite being genuine Indian citizens are languishing in detention camps?" Madani asked. The organisation also sought punishment for the investigating officer.
AAMSU president Rezaul Karim Sarkar and vice-president of AIUDF's Goalpara district unit A. Hai also demanded fair trial for genuine Indians lodged at detention camps.