Barbs fly in BTC poll campaign
Mohilary pledges growth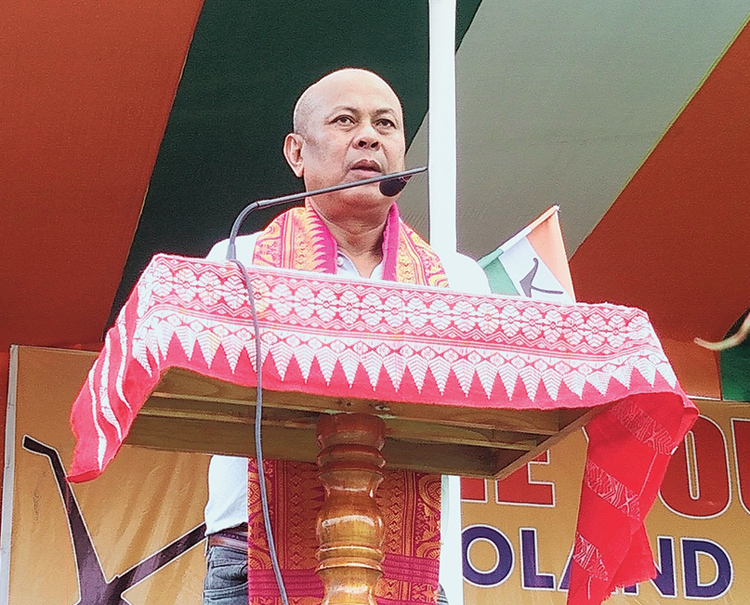 Hagrama Mohilary addresses a rally at Ambagaon in Udalguri district on Saturday.
Picture by Shajid Khan
---
Udalguri
|
Published 14.03.20, 09:08 PM
|
---
Bodoland Territorial Council (BTC) supremo and Bodoland People's Front president Hagrama Mohilary on Saturday promised voters "inclusive growth and development" if the ruling BPF is voted back to power. The party also announced a slew of pre-poll sops for every communities in the BTC.
The development measures included:
Establishment of development boards for every community living in the four districts that make up the BTC.
Land registrar office in each of the four district headquarters.
Land pattas to those residing on government lands.
Addressing a gathering of over 10,000 people at a youth rally organised by the BPF and its student wing, Bodoland Students' Union (BSU), at Ambagaon in Udalguri district on Saturday, Mohilary said development boards will be set up once the BPF is voted back to power. The boards will address the issues plaguing the communities residing in the four districts of the BTC. There is a sizeable section of non-Bodos living in BTC.
He added that party has continued its alliance with the BJP and the Asom Gana Parishad (AGP) in the BTC polls to be held on April 4.
The BPF is being challenged by its ally BJP, Congress-AIUDF combine, Gana Suraksha Party and United People's Party Liberal (UPPL).
Mohilary also announced candidates for some constituencies and said the Fakiragram and Nagrijuli constituencies in Kokrajhar and Baksa districts respectively have been offered to the BJP and therefore, his party will not field candidate there. The Thuribari BTC constituency in Chirang has been left for the AGP, he added.
Assam cabinet minister and BPF legislator Rihon Daimari urged his party workers to be part of the massive campaign and be stakeholders of peace and development in the Bodo belt. "This year's polls is an agnipariksha (trial by fire) for the BPF," Daimari said, adding that they would form government for the fourth consecutive term.
Rajya Sabha MP and BPF leader Biswajit Daimari lambasted the All Bodo Students' Union (Absu) and the UPPL, alleging that they have been spreading rumours to malign the BPF's image.
Daimari said the Bodo belt has been witnessing growth, development and peace under the BPF's tenure. He expressed confidence that people will vote for the party.
Attending a party workers' meet at Tangla in Udalguri on Saturday, Dhekiajuli BJP legislator and observer of the Mwdaibari constituency Ashok Singhal said the BJP has decided to contest the polls alone to honour aspirations of Bodo belt party workers.