Assam stir shadow on citizen bill
'The BJP will face the biggest mass movement after the Assam Agitation,' said Adip Phukan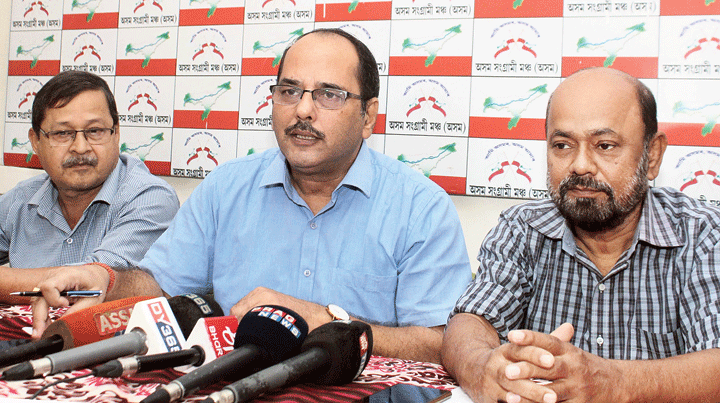 ---
Guwahati
|
Published 16.11.19, 06:53 PM
|
---
The Asom Songrami Mancha on Saturday said the ruling BJP would face a movement bigger than the Assam Movement if it pushed the Citizenship (Amendment) Bill.
The Mancha's warning comes before the start of the winter session of Parliament from Monday. The Narendra Modi government is set to introduce a new version of the bill — a key BJP promise aimed at granting citizenship to persecuted non-Muslims from Bangladesh, Pakistan and Afghanistan.
The Mancha's executive president, Adip Kumar Phukan, said: "Irrespective of our differences in ideology, the civil society organisations and various unions from across the state will stand united against the Centre's move to pass the bill. The BJP will face the biggest mass movement after the Assam Agitation."
The AASU-led agitation was a mass movement against influx of foreigners, especially from neighbouring Bangladesh. It started in 1979 and ended with signing of the 1985 Assam Accord.
Phukan alleged the BJP had promised to grant citizenship to lakhs of infiltrators, specifically the Hindus, in the name of religious persecution or refugees.
Criticising chief minister Sarbananda Sonowal and health and finance minister Himanta Biswa Sarma, Phukan alleged that the BJP had been trying to recognise Hindu migrants — who had entered Assam to grab land and economic opportunity — as refugees.
"If the infiltrators were refugees, the BJP should also make their names public and point out the camps in which they were accommodated," Phukan said.
He asserted that Sonowal and Sarma had been misleading the people of Assam to remain in the good books of the RSS and Delhi.
Phukan alleged the BJP, being motivated by the RSS, was conspiring to uproot the Assamese community, its language and culture. "To achieve this, the BJP is trying to outnumber the indigenous Assamese people by providing citizenship, categorically to the Hindu Bengalis who infiltrated from erstwhile East Pakistan to Assam," Phukan said, alleging that the BJP's sole aim was to marginalise the Assamese in their own land.
Phukan speculated that if the Congress returned to power, they (Congress) would advocate granting citizenship to Muslims again on "humanitarian ground". "We are forced to struggle for survival in our own land; so we are betrayed by our own leaders. They are neither vocal for the interest of the Assamese neither in Dispur nor in Delhi. Their intention is only to retain power acting on the direction of the RSS," Phukan said.
According to the official Lok Sabha website, the bill seeks to "amend the definition of illegal migrant, reduction in the number of years of residency period to obtain Indian citizenship through naturalisation and empower the central government to cancel the registration of Overseas Citizen of India card in case of any violation."