Assam revokes Covid roster order
Change comes a day after the IMA, Assam, protested the gruelling schedule for health workers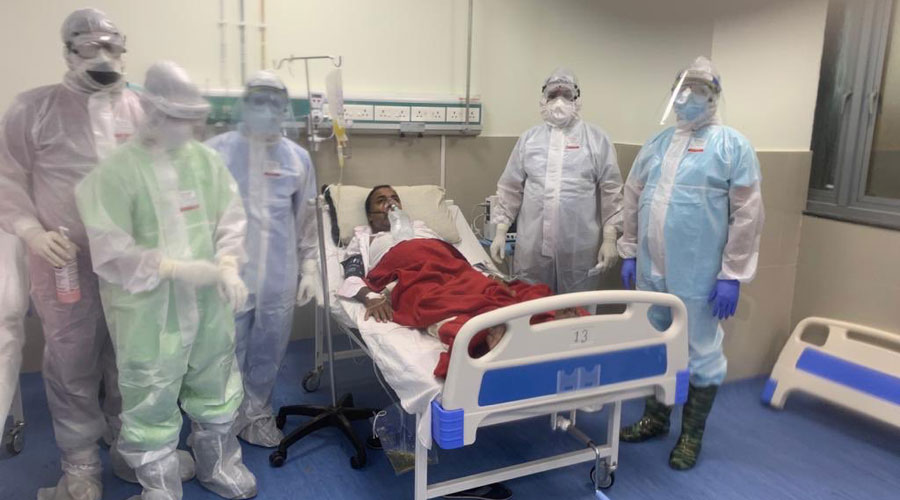 ---
Guwahati
|
Published 10.07.20, 03:07 AM
|
---
The Assam health department on Wednesday revoked its July 6 order on 11-day duty and three-day quarantine for doctors and frontline workers on Covid duty, following a letter from the Assam branch of the Indian Medical Association.
The general secretary of the GMCH Junior Doctors Association, Bitopan Das, said the old duty roster for those serving in Covid hospitals had been restored after a two-hour meeting with health minister Himanta Biswa Sarma on Tuesday night. The formal order is expected on Thursday, he added.
"It is will be seven-day duty and seven-day quarantine for those working in Covid hospitals where symptomatic patients are being treated. There will be a separate order for those serving in Covid care centres where asymptomatic patients are treated, " Das said.
A health department official later said the roster for the care centres is also being changed, to 10-day duty and four-day quarantine from the earlier seven-day duty and seven-day quarantine.
The volte-face on the duty roster comes within a day of the strongly-worded letter by the Assam branch of the IMA to Sarma, protesting the gruelling schedule for health workers amid the surge in Covid-19 cases.
There are over 14,000 cases in the state. Chief minister Sarbananda Sonowal reviewed the situation in Kamrup Metro in the evening.
Along with positive cases, the toll is also mounting, from 16 on Tuesday to 21 on Wednesday. Four of the patients died at the GMCH here and one each at the Tezpur Medical College and Hospital and Jorhat Medical College and Hospital. Four deaths were also reported from private hospitals, but these are being verified.
All India Mahila Congress president Sushmita Dev has also been diagnosed as Covid-positive.
Assam Congress president Ripun Bora and CLP leader Debabrata Saikia targeted the health minister over the letter by the IMA unit.
In a tweet, Bora asked why Sarma was not taking medical experts into confidence while taking decisions to fight the pandemic, "for which #IMA had to express their strong objection by writing letter to you? #FailuresOfAssamHealthDeptt". Saikia, on the other hand, said IMA's letter proved the "dictatorial attitude" of Sarma.
Responding to Bora's charge, Sarma tweeted, " Dear @ripunbora Dangaria-In our systems, all decisions are taken after due consultation. Principals of medical colleges, senior faculties are taking all professional decisions. No family rule in our government."
The family rule jibe was aimed at the Congress leadership. In Assam, Saikia is the son of former chief minister Hiteswar Saikia, Sushmita Dev is the daughter of Santosh Mohan Dev and sitting MP Gaurav Gogoi is the son of former chief minister Tarun Gogoi.