Assam region moves to tackle coronavirus, but...
...Guwahati traders 'go slow' on plea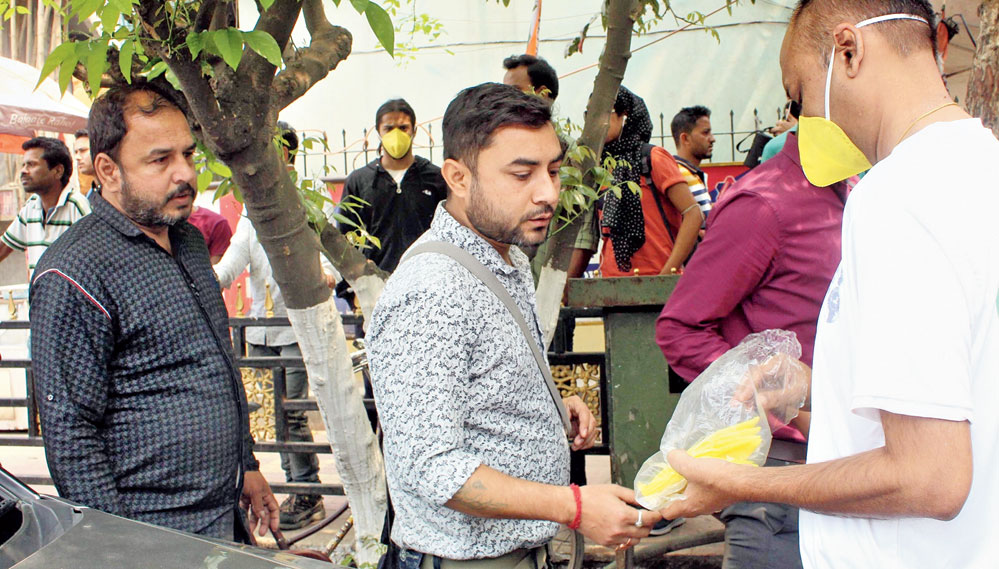 ---
|
Guwahati
|
Published 21.03.20, 07:22 PM
---
The Assam government's appeal to business establishments to make arrangements for sanitising customers has failed to evoke the desired response.
Few in the city are heeding the pleas or may be unaware of the appeals that were to be followed by an inspection by health department personnel.
While the government has directed educational institutions, museums, libraries, coaching centres, barber shops, bars and pubs to remain shut till March 31, cabinet minister Himanta Biswa Sarma said on Friday that private commercial establishments will risk facing closure if they do not stock sanitisers or provide hand-wash facilities. "Health inspectors will start doing the rounds from tomorrow (Saturday)," he had said.
However, almost all shops in Beltola and most in Panbazar, Ambari and Ulubari visited by The Telegraph are not adhering to the government directive to provide soap and water in their establishments.
Though the unavailability of sanitisers and affordability for small shopkeepers are genuine issues, others feigned ignorance about the appeal.
Roadside vendors and eateries, especially vegetable vendors in Beltola, said they had no information about the appeal. Tobacco vendors were mostly unaware.
"Why wash hands? If we are to wash hands every now and then, it will take much time to make a single sale, let alone handle more customers," a vegetable vendor said.
A Basistha Chariali vendor said, "The bigger shops can arrange water. I can't afford to buy water every now and then for washing hands. Hand sanitisers are out of stock."
Hand-washing liquid was also not given to customers at a few places.
Vishal Kumar, 19, who visited a cafe at Ambari here, said the staff refused to give him hand-washing liquid. "Why will they give it to customers? They will keep it for themselves as it will eventually go out of stock," he said.
However, there were a few establishments following the directive.
Ariz Ahmed, a Panbazar resident, said a few restaurants have kept soap and water in front of their shop. "It is the need of the hour to maintain self-hygiene," he said.
Om Prakash Mahato, 31, a panipuri-seller, whose sales have gone down by 50 per cent, said: "Customers were provided soap to wash hands."
Kamrup (metro) deputy commissioner Biswajit Pegu said the government had issued an appeal and not a directive. "It is an unprecedented situation. We are doing our bit and keeping tabs. Slowly shopkeepers will realise and make available hand-washing facilities because they are more at risk. We are sure that as awareness grows, the situation will improve. Already big shops, malls and hotels are providing sanitisers and hand-washing facilities," he said.
He said there was no scarcity of sanitisers. "It will become available once new stocks arrive. Orders have been placed," he said.
However, a visitor from Chandigarh said Guwahati was less prepared in terms of a lockdown. "More restaurants and hotels are open here," she said.