Assam records 4% rise in Matric results
Lakhimpur girl tops exam with 99%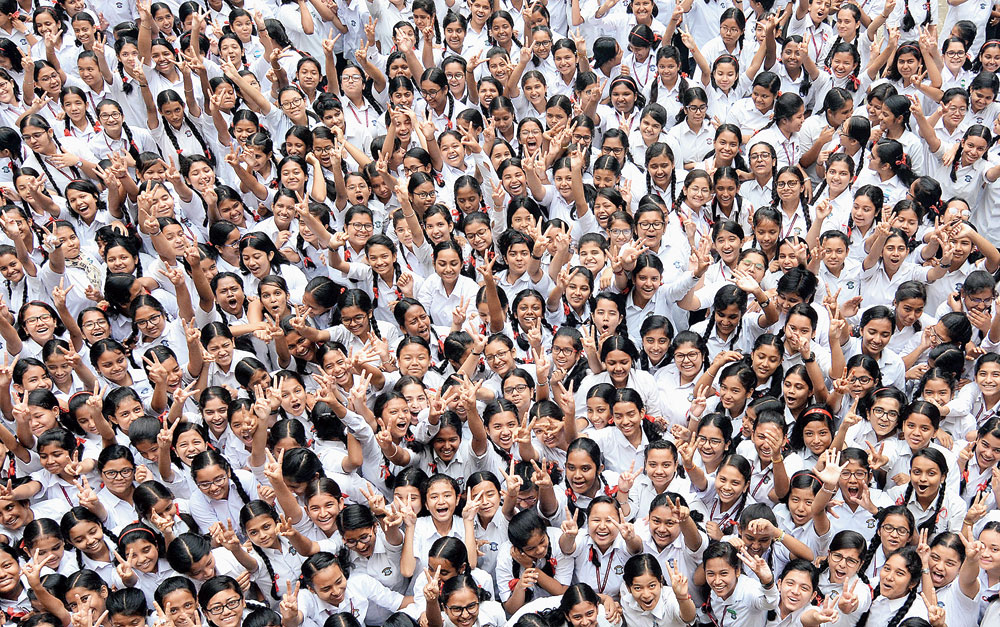 Students of St Mary's HS School in Guwahati on Wednesday celebrate the institution's success in the HSLC examination
Picture by UB Photos
---
Guwahati
|
Published 15.05.19, 06:35 PM
|
---
The pass percentage of the Class X High School Leaving Certificate (HSLC) examination in Assam this year, declared on Wednesday, recorded a four per cent increase from last year, despite scrapping the practice of awarding grace marks.
The pass percentage in the examination, held by the Board of Secondary Education, Assam (Seba), was 60.23 — 62.69 and 57.99 per cent for boys and girls respectively.
The board scrapped the practice of awarding grace marks, called "moderation" by Seba, to inflate pass percentage.
Altogether 3,36,203 students appeared for the examination, of which 48,599 passed in first division, 71,020 in second and 82,889 in third division.
Altogether 1,15,642 students got letter marks (over 80 per cent), 5,522 students distinction mark (510 and above out of 600) and 11,326 star marks (450 and above).
Altogether 37 students, including 10 from government schools, are in the top 10. Meghashree Borah from Sankardev Shishu Bidya Niketan, Narayanpur, in Lakhimpur district topped the exam, securing 594 of 600 marks (99 per cent). Chinmoy Hazarika from Don Bosco High School, Baghchung (Jorhat) and Pratyasha Medhi from St Mary's HS School here bagged second rank securing 593 marks. Afreen Ahmed from Christjyoti School, Nagaon and Anushree Bhuyan from St Mary's HS School, Guwahati came third, securing 591 marks.
Meghasree dedicated her success to her late father who passed away last year.
Four students from Guwahati were among the top 10, three from St Mary's HS School and one from Assam Jatiya Bidyalaya, Noonmati.
Dhemaji recorded the highest pass percentage (83.28) while Hailakandi recorded the lowest (39.01).
Chief minister Sarbananda Sonowal congratulated the rank holders and called upon the unsuccessful students not to be disheartened.
All students of 491 of 7,000 Seba-affiliated secondary schools, including 65 government schools, passed the examination. In 289 schools, including 37 government schools, the pass percentage was below 10.
"We will sit with the guardians and teachers of the schools with less than 10 pass percentage to find out what went wrong," said education minister Siddhartha Bhattacharya.
He congratulated the rank holders and requested those who failed to try harder.
Bhattacharya said failure of 40 per cent students was a matter of concern. "We have asked the schools to give extra coaching those who failed the exam," he said.
During the examinations, 396 students were expelled for resorting to unfair means.
The pass percentage in Assam High Madrassa examination was 58.18, with 9,127 students appearing. Selim Ahmed from Rakhaldubi High Madrassa, Goalpara, Abdul Aziz from Pipirakuchi Anchalik High Madrassa, Darrang and Ilial Ali from Ambari Kartimari High Madrassa in Goalpara got the top three positions.