Assam policemen bring medicines to doorstep of patients
This project operates through a number of volunteers, including off-duty policemen, civil society, paramedics and pharmacists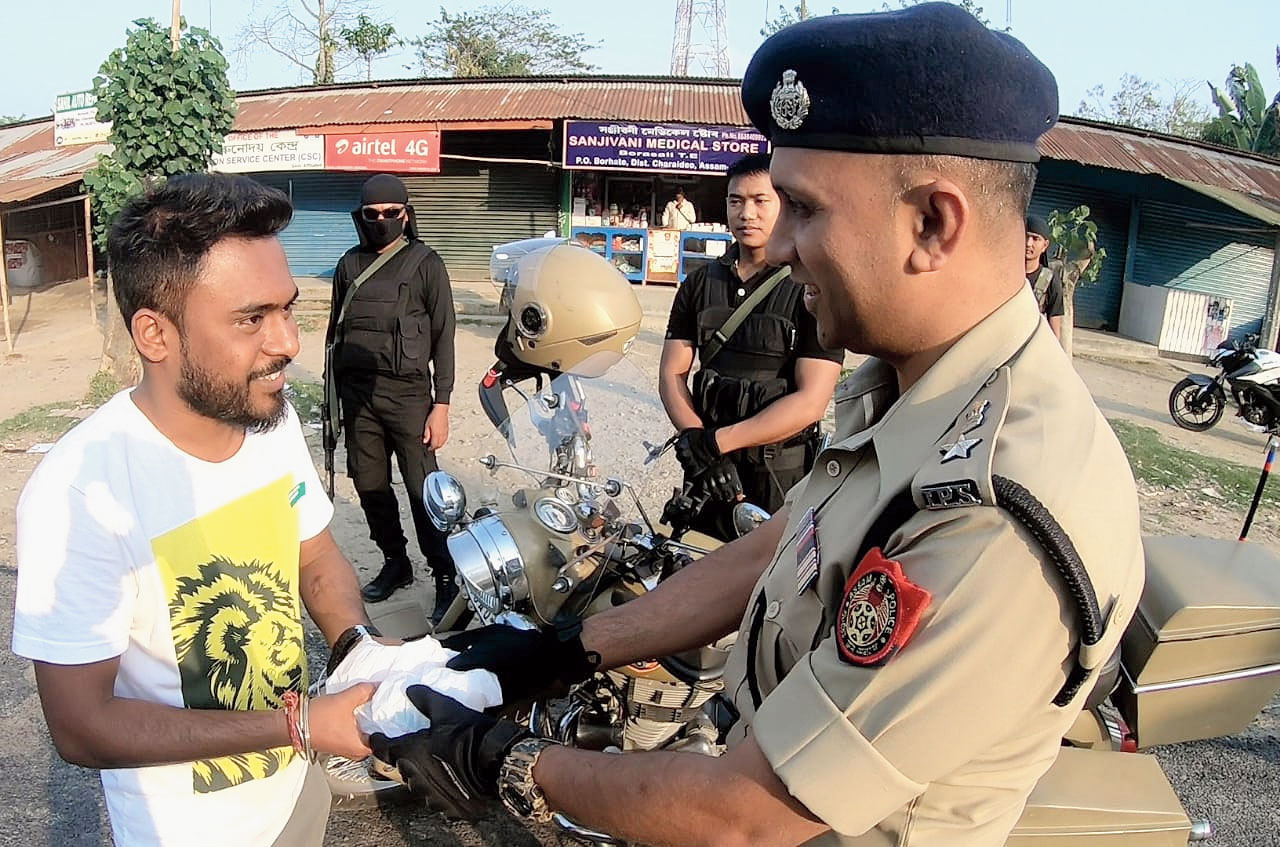 ---
Guwahati
|
Published 08.04.20, 07:42 PM
|
---
For Chinton Baruah of Sonari in Upper Assam's Charaideo district, lockdown days are tough like any other in the neighbourhood. He needed medicines for his ailing father and it was not available in his area. That's when Charaideo police came to his rescue and delivered the medicines at his home.
"Wow, this is great. I was desperately looking for medicines for my father who is paralysed. They are available in Tinsukia but we couldn't go there because of the lockdown. I'm thankful to Charaideo police for bringing the medicines from Tinsukia and delivering at our doorstep," said Baruah.
The destitute and the elderly who stay alone have been hardest hit by the lockdown. Another section which has been adversely affected are those in need of medicines but are unable to procure themselves.
"We are strict, we are kind. Either way, we care for you," is the motto Charaideo police are working with during the lockdown.
While on one hand, Charaideo police have been enforcing the lockdown protocols firmly, on the other hand, the same force have been performing yeoman service.
There are several others like Baruah who have been assisted by Charaideo police. Jeet Mandal, who was also looking for medicines for his sister, was aided by the police.
Project Good Samaritan, launched by Charaideo superintendent of police Anand Mishra, has two schemes — food for all, langar for destitute and daily-wage earners, and free delivery of emergency and life-saving medicines to anyone in need across the district.
Both were launched as pilot schemes but have received tremendous response and goodwill from the public and hence regularised with 24x7 services.
"People who have benefited are happy and at the same time, it is affecting others in a positive way. This is a great thing. We are flooded with requests from people that they want to be a part of it and they want to contribute. The goodness in people is coming out. Maybe we have invoked that. This is very important in smaller places unlike Guwahati. We are so humbled to see the reaction of the people. This is our food for soul," Mishra told The Telegraph.
Under the medicine delivery scheme, those unavailable in the district have been procured from Tinsukia, Dibrugarh and Sivasagar, among others, and delivered at the doorsteps of patients.
This project operates through a number of volunteers, including off-duty policemen, civil society, paramedics and pharmacists, who are coordinated through the police control room (phone number: 9678921813).
Similarly, Assam police have initiated several steps to reach out to the poor, senior citizens and the needy in different ways across the state with the help of social media platforms. The beneficiaries also appreciated the efforts of the police on social media.