Assam in talks for oxygen for Covid patients
The government has also decided to withdraw certain free facilities for those who can pay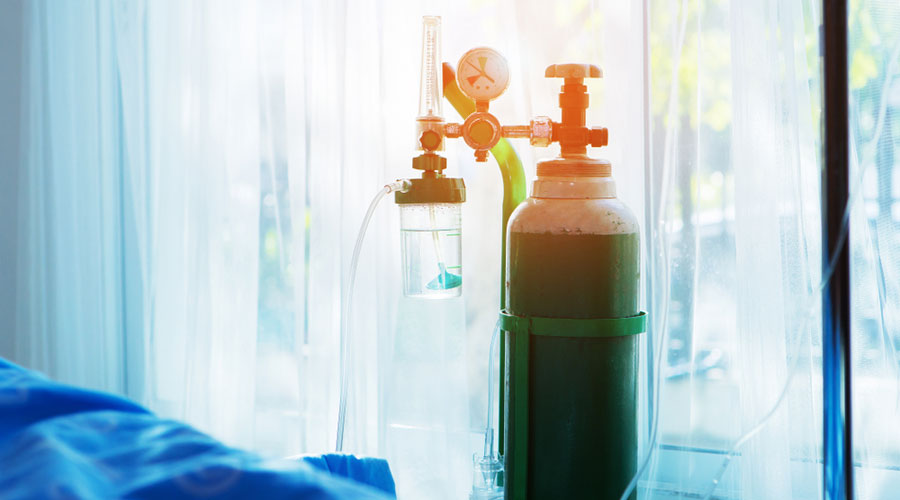 Assam health minister Himanta Biswa Sarma said the rise in Covid cases has also seen a rise in patients requiring oxygen support.
Shutterstock
---
Guwahati
|
Published 31.08.20, 01:08 AM
|
---
The Assam government is in talks with oxygen producers from Bengal and Jharkhand so that critical Covid19 patients do not suffer for want of supply. The government has also decided to withdraw certain free facilities to patients who can pay.
Assam health minister Himanta Biswa Sarma said the rise in Covid cases has also seen a rise in patients requiring oxygen support.
"Consumption of oxygen by Covid-19 patients has increased from five metric tonne a day in July to 8.25 metric tonne as on day. Along with non-Covid patients, the state altogether requires 25MT of oxygen a day but its production from all sources in the state is 37.86MT a day," Sarma said.
Till Sunday, the number of positive cases crossed the 1,03,794 with 20,992 active cases and 289 fatalities. Cases are rising by 2,500 a day on an average.
"Since the number of patients requiring oxygen support are rising, we are contemplating importing oxygen from outside to meet any shortfall. We are in talks with oxygen suppliers in Bengal and Jharkhand so treatment of patients does not suffer," he said.
There were 126 Covid patients in ICU, 430 patients on life support while 1,300 on remdesivir till Sunday.
Remdesivir is an anti-viral drug used in treatment of Covid patients on oxygen support.
There are ten oxygen producers and bottling plants in the state. One metric tonne of oxygen costs around Rs 25,000, sources told The Telegraph.
Since the gap between demand and supply of oxygen required for critical patients was closing in and mortality rate too rising from 0.24 per cent to 0.28 per cent, Sarma appealed to all to adhere to Covid19 protocols to avoid adding to the galloping number of positive cases.
"Going by the figures, the overall situation is critical. Therefore, I appeal to all to maintain social distancing and wear masks," Sarma said.
On the positive side, the doubling rate of cases has gone up to 23 days from 15 days and Assam was third in testing per million.
Sarma also said Covid patients preferring to stay in paying cabins will have to pay the daily room charge except for the medicines.
To cut down on free services offered to Covid patients, the government has also withdrawn the service of dropping home cured patients within a district.
Those requiring RTPCR test report within 24 hours from government hospitals will have to pay Rs 2200 which, Sarma said, was still cheaper than what is charged by private hospitals.
"Those who can pay will have to pay from now but we will continue offer life saving medicines for free and serve the BPL for free," he said.
Sarma, who is also the education minister, said government school and college teachers will have to be at their respective institutes from September 1.
"Teachers will check the sanitisation drive and take online classes. From September 15 to 30, they will take informal classes for Class X and degree final year students in groups of four to five. If anyone tests positive, this move will be discontinued," he said.
Educational institutes have been closed since the March 25 lockdown but most parents/teachers are said to be against reopening given the surge in Covid cases since July.
Sarma also said the government will deposit Rs 20000 each in the account of 16, 944 students securing 75 per cent marks and more in this year's High School Leaving Certificate (HSLC) examinations in lieu of laptops which could not procured this time because of Covid. Laptops are given  under the Anundorum Barooah Award scheme launched in 2005. He also announced cash assistance of Rs 2.5 lakh to 8000 Namghars,  community prayer hall "conceived by Mahapurush Srimanta Sankardeva, symbolising the collective identity and culture of the people of Assam".  The amount will be given under Asom Darshan Phase 2 scheme.