Assam: Government launches crackdown on laggard schools
The pass percentage dipped to 56.49 compared to 93.10 per cent in 2021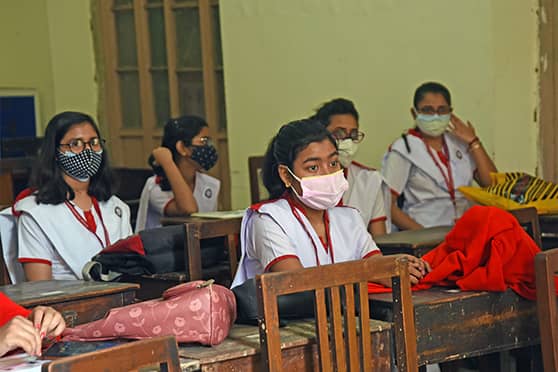 Representational image
File photo
---
Guwahati
|
Published 16.06.22, 01:52 AM
|
---
The Assam education department has cracked down on 102 government schools by showcasing them for the "pathetically dismal" performance of their institutions in the matric examinations the results of which were declared last week.
The Board of Secondary Education Assam (SEBA), which conducts the matric/Class X final exams, declared the results on June 7. The pass percentage dipped to 56.49 compared to 93.10 per cent in 2021.
Over four lakh candidates had appeared for the final exams held between March 15 and 31 in the offline mode.
The June 9 show cause to the principals/headmasters by the director-cum-disciplinary authority of the secondary education department stated, "It is seen that the academic performance of your School is pathetically dismal. The poor result of your School reflects upon your performance. You have miserably failed to deliver your duties."
The show cause added: "As such, you are hereby asked to show cause as to why the disciplinary authority should not consider your dismissal from service. Your written reply in defence, should reach the undersigned within 07 (seven) days positively from the date of receipt of this letter."
Officials in the secondary education department said the results has been very disappointing, attributing it to "gross negligence" on part of the school staff, triggering a very strongly-worded letter from the director of secondary education seeking an explanation from the principals/headmasters of the 102 schools which registered a pass percentage of ten or below 10 per cent.
"There is no explanation. It is more shocking because the syllabus was reduced to sixty per cent because of the Corona pandemic. Last year, there were 30 schools with zero pass result but there was no reduction in syllabus. This time schools with zero pass is 164," one of the officials said, calling continuous training of teachers and fixing responsibility to check the dip in performance.
One of the reasons was the teachers' concern of "what to teach" instead of "how to teach" which is due to "gross" negiligence on their part.
"It is an undeniable fact. A section of the government schoolteachers complain they are saddled with non-school activities like NRC update or election duty. But they should also remember that they get more pay and facilities than private schools. We need to fix responsibility by imposing penalty such as withholding promotion or increments. They should serve with sense of dedication towards the society. A lot depends on them," the official said.
Assam chief minister Himanta Biswa Sarma said on the sidelines of a deputy commissioners' conference in Tezpur on Monday that action has to be taken against non-performing schools.
He said he was not at all "unhappy" with the overall HSLC result. Nearly 60 per cent success rate amid Covid was good but concern was over the non-performing schools, Sarma said.
While 25 schools drew a blank, ten schools had 10 per cent success rate and 70 schools had a pass percentage of less than 10. Overall, government schools recorded a pass percentage of  52 per cent in the Class X final exams while that of private schools was 58 per cent.
"The problem is why some schools had zero result? We have to take action against teachers of these schools. It is justified. If we don't take action against these teachers then teachers of the schools which have 100 cent per cent success rate will think that they are not being rewarded for their good results, that the government is giving equal treatment to non-performers. That is why we need to talk with these non-performing schools," Sarma said.