Assam Assembly elections 2021: Plea for extra eyes on strong rooms
BJP 'may manipulate the mandate', says Assam PCC president Ripun Bora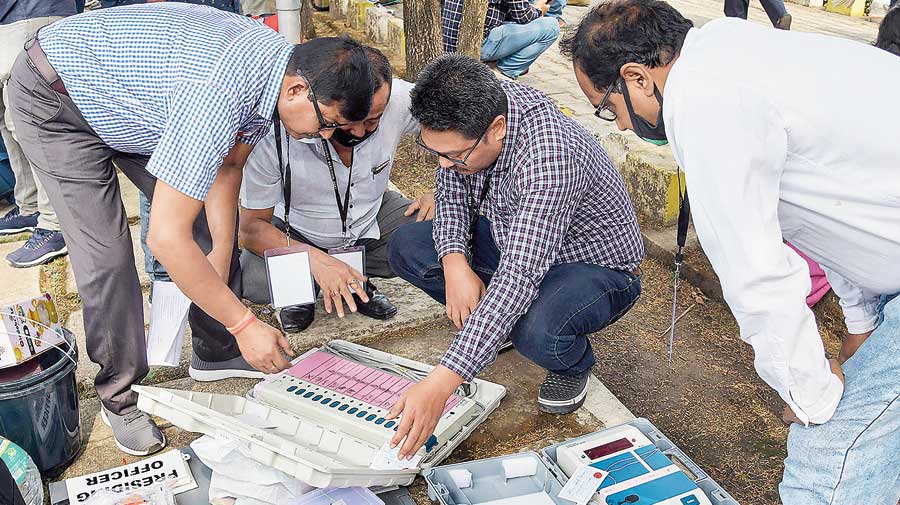 Polling officials check electronic voting machines and other items at a distribution centre in Kamrup district of Assam on Monday before the third and final phase of Assembly polls on Tuesday.
PTI
---
Guwahati
|
Published 08.04.21, 01:04 AM
|
---
The Opposition Congress moved Assam chief electoral officer Nitin Khade on Wednesday with a plea to provide access/link of CCTV surveillance of the strong rooms to all the contesting candidates because the party fears the ruling BJP "may go to any extent to manipulate the mandate" of the Assembly polls.
Assam PCC president Ripun Bora moved Khade a day after the third and final phase of polling ended on Tuesday.
Besides seeking access to CCTV surveillance for contesting candidates, the PCC also urged Khade to allow them to install cameras outside the strong rooms to add another layer of monitoring. It also urged the general public to remain vigilant by keeping an eye on the strong rooms.
Elaborating on the party's reasons for the protection of electronic voting machines (EVMs), Bora said: "There have been unwanted incidents involving EVMs at several places, including Barpeta, Barkhetri, Dharapur and Golakganj. There was suspicious transportation of EVMs. Hence we want additional surveillance of the strong rooms where the EVMs are kept... We fear the ruling BJP may go to any extent to manipulate the mandate the people have given us."
Altogether 946 candidates contested the three-phase Assembly elections. The first phase was held on March 27, the second phase on April 1 and the third on April 6. Counting of votes will be held on May 2.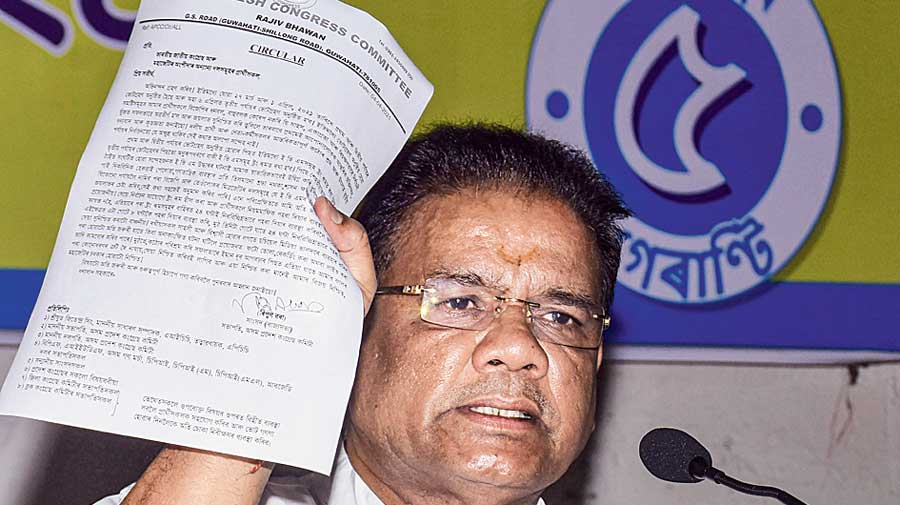 The overall polling percentage was 82.04 per cent with the highest turnout of 85.2 per cent recorded in the third phase. However, the overall percentage was less than the 84.72 recorded in the 2016 Assembly polls won convincingly by the BJP-led alliance.
"Since the election officers have access/link to monitor the strong rooms 24/7, we are requesting the CEO to provide the same to the contesting candidates in all constituencies so that they can keep an eye on the strong rooms on their mobile. Providing access to CCTV surveillance will definitely add to measures aimed at ensuring fair, free and transparent elections," Bora said.
PCC media department chairperson Bobbeeta Sharma said the demand for additional surveillance for strong rooms stemmed from reports swirling around the handling of EVMs, from their transportation to malfunctioning. "We need extra surveillance because we apprehend the ruling party may use the official machinery to manipulate the results. We need to rule out such possibilities," she said.
Bora, who asserted that the Congress-led 10-party mahajot (grand alliance) will win the polls, also thanked the people of Assam for coming out to vote in large numbers, saying that the "third phase of election signals an atmosphere of change".
He also proposed a vote of thanks to all individuals who helped the Congress in the elections, including party leaders and workers.