Arunachal strike peaceful, 27 held
Protesters, mostly youths, were picked up from Itanagar, Naharlagun and Nirjuli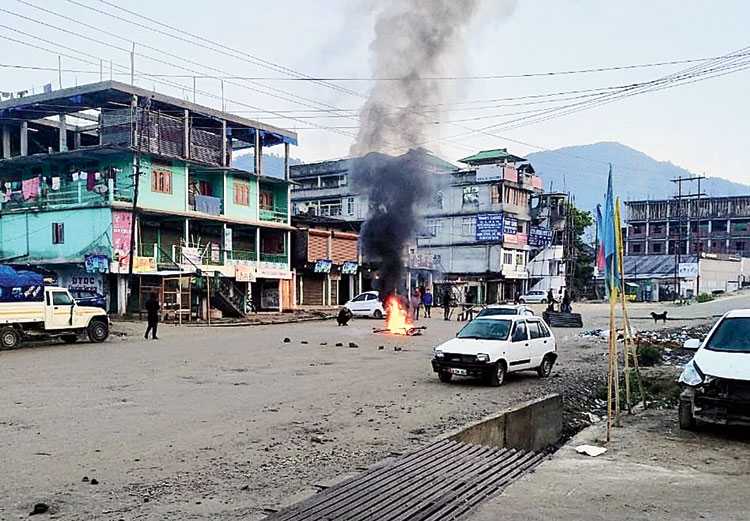 Tyres being burnt during the bandh in Itanagar on Thursday
Picture by Damien Lepcha
---
Tinsukia
|
Published 21.02.19, 07:00 PM
|
---
The first day of the 48-hour Itanagar and Namsai strike in Arunachal Pradesh, called by a conglomerate of 18 student and civil society organisations against the state's decision to grant permanent resident certificates (PRC) to non-Arunachal Pradesh Scheduled Tribes (APST) of Namsai and Chanaglang districts, paralysed normal life but remained largely peaceful on Thursday with no major incidents of violence reported.
The organisations that called the strike include the Arunachal Law Students' Union, All Papum Pare District Students' Union, All Nyishi Students' Union, United Arunachal Indigenous People's Forum, All Tagin Students' Union and the Arunachal Anti-Corruption Union, among others.
The groups on Tuesday served a two-day ultimatum to the government, demanding that the decision be revoked.
The organisations have been alleging that the environment and forest minister Nabam Rebia-led joint high-power committee had submitted its report without proper verification of facts and it should be rectified before being tabled in the Assembly.
Though there were reports of protesters burning tyres and creating blockades on the national highway near Chandranagar, police and paramilitary personnel were quick to disperse them.
Itanagar superintendent of police M. Harsha Vardhan said 27 people were arrested in connection with the violence. Protesters, mostly youths, were picked up from Itanagar, Naharlagun and Nirjuli.
"The district administration has already declared the strike illegal. There were no reports of any major incident. Reports of sporadic stone-pelting were received in the morning. We have identified those who called the strike. Strict action will be taken against them soon," the official added.
Vardhan said there is extensive deployment of security personnel across the state and urged people to carry on with their day-to-day activities without any fear.
The Namsai roads wore a deserted look as shops and offices remained closed.
Namsai superintendent of police Ankit Singh said: "The strike has been peaceful so far. We are trying to speak to the leaders of the organisations and village headmen to convince them to lift the strike."
"We have forwarded the memorandum, submitted by the protesters, to higher authorities," Singh added.
"Milk and military vans, magistrate-on-duty and para-military, mediapersons, examinees and medical emergencies have been exempted from the strike," the joint memorandum submitted to deputy commissioner said.
Representatives of a number of communities that are not recognised as Scheduled Tribes (STs) in the state have been demanding PRCs be provided to them as they have been living in Arunachal Pradesh for decades.
The communities are Deoris, Sonowal Kacharis, Morans, Adivasis and Misings.
Most of these communities are recognised as Scheduled Tribes in Assam.