Amit Shah launches afforestation drive to restore ecology of Sohra
It was earlier known as Cherrapunjee, a tourist destination in Meghalaya, which once had the distinction of being the wettest place on earth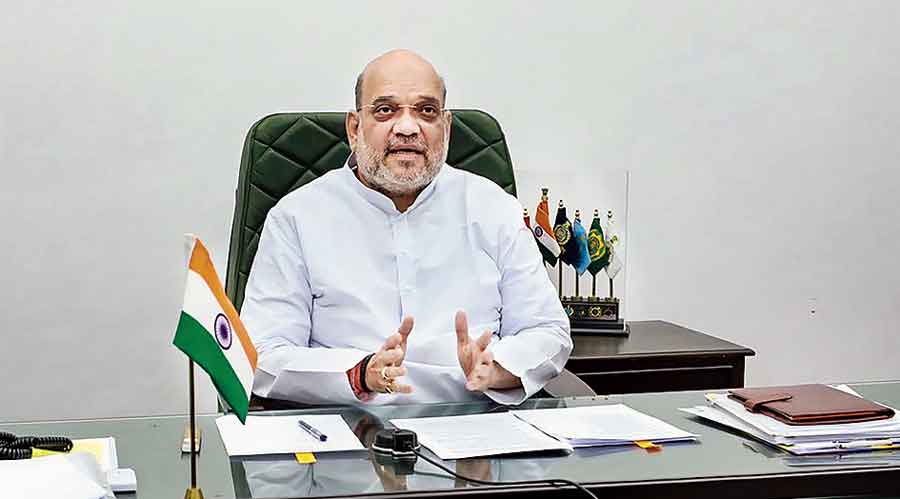 ---
Guwahati
|
Published 01.08.21, 12:26 AM
|
---
Union home minister Amit Shah last week launched a mega afforestation drive to restore the ecology of Sohra, earlier known as Cherrapunjee, a tourist destination in Meghalaya which once had the distinction of being the wettest place on earth.
The first-of-its-kind initiative of the National People's Party (NPP)-led Meghalaya government is "aimed at bringing together" the Union ministry of home affairs (including defence officials), its own officials and village communities for a "novel and humanitarian" cause of natural resource management in what is considered a "very important and ecologically fragile landscape".
In addition to ecological restoration of the Sohra plateau, the project is expected to address the area's water shortage during the dry season, boost tourism, provide livelihood to the local populace and enhance resilience to climate change.
Launching the Green Sohra Afforestation Campaign to be run by the Meghalaya government with the help of Assam Rifles at Sohra, Shah said earlier Cherrapunjee, around 56km from Shillong, used to receive rainfall throughout the year, but the situation has changed because of indiscriminate harvesting in the name of development.
Shah said an ambitious project to "make Cherrapunjee green again has started' and the entire area is going to be adopted by Assam Rifles for the purpose of plantation.
The Sohra plateau, spread over an area of about 39,000 hectares, receives average annual rainfall of 11,000-12,000mm.
"Trees are cut for fuel and other uses. So 80 per cent of the total land will be planted with traditional and long lifespan trees. The remaining 20 per cent will be used for animal feed, ornamental plants and nursery which will meet all the requirements and help reduce the felling of long lifespan trees...," Shah said.
The project will greatly benefit eco-tourism in Meghalaya, Shah said while underlining the need to fight global warming and climate change.
Officials said the project is an outcome of Shah's interest in restoring Sohra's ecosystem during a visit to Shillong in January.
An official of the chief minister's office said the trigger for launching the project are the ecological challenges which are evident from the large barren areas in the Sohra plateau, water crisis apart from the rainy season and severe soil erosion in barren areas during heavy rainfall causing sedimentation in streams and other waterbodies.
The project will see block plantations in 3,000 hectares — fuelwood in 2,000 hectares and broom grass in 1,000 hectares — and 50,000 ornamental trees to enhance the tourism potential. The project will also see establishment of 14 nurseries, forest fire control measures and capacity building of local communities in natural resource management.
"The plantations, which also include aromatic plants, would be completed within three years and maintenance support would be provided for up to five years. We plan to cover 1,000 hectares in the first year but the target is to cover 10,000 hectares," the official said.
Exbucklandia populnea (pipli in Hindi and Diengdoh in Khasi), betula alnoides (bhojpatra in Hindi and Dienglieng in Khasi), engelhardtia spicata (mauwa in Hindi and Dieng lyba in Khasi) and eugenia jambolana (jamun in Hindi and Diengsohum in Khasi) are some of the species that will be planted as part of the drive.
Minister for development of north eastern region (DoNER) G. Kishan Reddy, minister of state for science and technology and department of space Jitendra Singh, minister of state (DoNER) B.L. Verma, Meghalaya chief minister Conrad Sangma and senior central and state government officials were present during the launch.
Shah met the chief ministers and senior officials of the northeastern states to review law and order, border disputes, use of space technology for development and mitigating disasters and drug trafficking. He urged the chief ministers to launch a coordinated effort for development and check law and order.
Shah also laid the foundation stone of Tamulpur Medical College under the Bodoland Territorial Region in Assam through videoconference and also handed over cheques to the families of Covid-19 victims at a function in Guwahati.