ABVP rallies for error-free NRC in Dibrugarh
Holding placards and banners, the members took to the streets of Dibrugarh just days ahead of its publication on August 31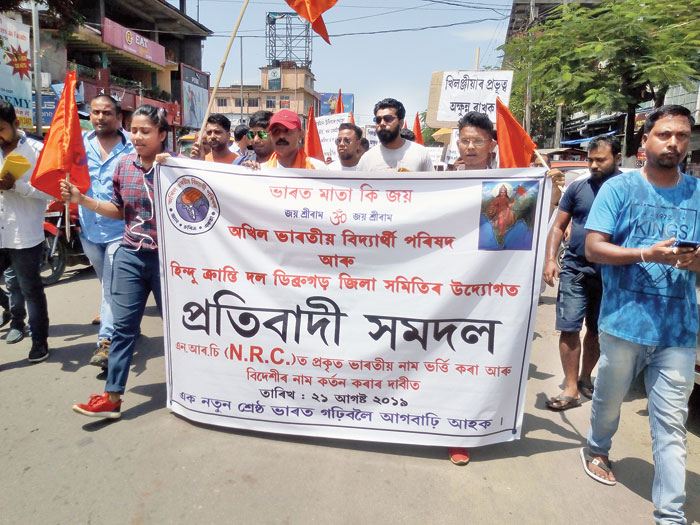 ABVP members take part in the rally in Dibrugarh on Wednesday
Avik Chakraborty
---
Dibrugarh
|
Published 21.08.19, 08:20 PM
|
---
The Akhil Bharatiya Vidyarthi Parishad and members of the Hindu Kranti Dal took out a rally in Upper Assam's Dibrugarh district on Wednesday seeking an error-free National Register of Citizens (NRC).
Holding placards and banners, the members took to the streets of Dibrugarh on Wednesday, just days ahead of its publication on August 31.
The rally was a part of the statewide demonstration by the students organisation against alleged anomalies in the update process of the NRC, which is being carried out in Assam with the intention of weeding out illegal immigrants.
The ABVP and Hindu Kranti Dal held rallies across Guwahati and other parts of the state demanding an error-free NRC.
On Monday, the ABVP took out a similar rally in Guwahati. The protesters later sent a memorandum to NRC state coordinator Prateek Hajela through the deputy commissioner, seeking an error-free NRC.
"Serious anomalies and discrepancies have been detected in the NRC exercise in the state. Genuine Indian citizens have been left out from the draft NRC while many illegal immigrants have been wrongfully included. We demand the inclusion of names of all indigenous people and exclusion of all suspected foreigners. We have no problem if the NRC final draft is published a month or two late but it should be 100 per cent genuine and correct," said Jaidev Gogoi, the president of the Dibrugarh unit of the ABVP.
The Supreme Court has set August 31 as the deadline for the final publication of the NRC. Earlier, the Supreme Court had extended the deadline for publication of the final NRC for Assam by a month to August 31, but rejected the central and Assam government's pleas to conduct 20 per centsample re-verification of the draft NRC in areas bordering Bangladesh. The original deadline was July 31.
Assam chief minister Sarbananda Sonowal on Monday indicated that the government may explore legislative options to deal with the wrongful inclusion of some names in the NRC after its final publication. Sonowal said the state government will ensure peaceful publication of the NRC on August 31 as mandated by the Supreme Court.
In July last year, over 40 lakh people were excluded from the complete draft of the NRC, which contained 2,89,83,677 eligible people out of 3,29,91,384 applicants. An additional 102,462 people were included in July 2019 in the list of excluded persons, taking the total ineligible persons to 41,10,169 in the complete draft of the document.