AASU for forest safety
'The protest is against open-cast coal mining which destroys the nature', said Gogoi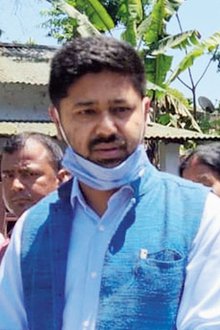 AASU secretary Lurinjyoti Gogoi
(File picture)
---
Doomdooma
|
Published 30.05.20, 11:08 PM
|
---
AASU secretary Lurinjyoti Gogoi on Friday said that the government should ensure complete safety of the state's biodiversity and stop all kinds of illegal activities, including coal mining.
"Illegal coal mining, open-cast coal mining, illegal transportations are going on. Commission raj is on. Thousands of trucks move on the highways. There is no police action. How can syndicates run with blessings of the administration, police and the politicians? This was on during the Congress rule and now is going on during the BJP-led dispensation. Those behind the syndicate have an understanding even after the change in government. The money of illegal mining goes to the government and the political parties. This has been going on since long and so we demand that it must be stopped," he said.
Lurinjyoti said: "The Dehing-Patkai elephant reserve forest area falls under an eco-sensitive zone. Coal India Ltd, a government agency, has got clearings from the National Board for Wildlife (NBWL) for mining. These are illegal. Many places in Sivasagar and areas near the Assam-Nagaland border fall prey to illegal coal mining. There is a nexus. A syndicate is operating."
He alleged those who protested against these illegal activities were killed and "this is a known fact". There were no result of probes by the government, he added.
Lurinjyoti said: "Coal India Ltd has been mining for 100 years. Was the unemployment problem in Assam solved? The biodiversity must be protected. There is a gang or a mining syndicate. The protest is against open-cast coal mining which destroys the nature and harms the biodiversity.
"The British, who started coal mining at Margherita, had used technology and mechanism to save the biodiversity. But this is not done. Open cast minings through blasts destroy mountains and animal corridors besides causing pollution. This is never acceptable."
He added: "I have done field reports. Trees and plants are being felled. Stones are stolen. We expected that the BJP government would do something, but it has not done anything yet. Timber smuggling and illegal coal mining have been given a free hand. Forests, hills and mountains are being destroyed. There should not be even one per cent harm to the biodiversity of the state."
Meanwhile, a team of representatives of Tinsukia District Journalists' Association was to visit Saleki on Saturday.
Assam environment and forest minister Parimal Suklabaidya had come on a two-day visit on Wednesday at Saleki and directed the department officials to prepare a report on the area and submit to chief minister Sarbananda Sonowal office within three days.