A promise and toil put Neha on road to success
Neha Kumari had promised her father on his deathbed that she would continue her studies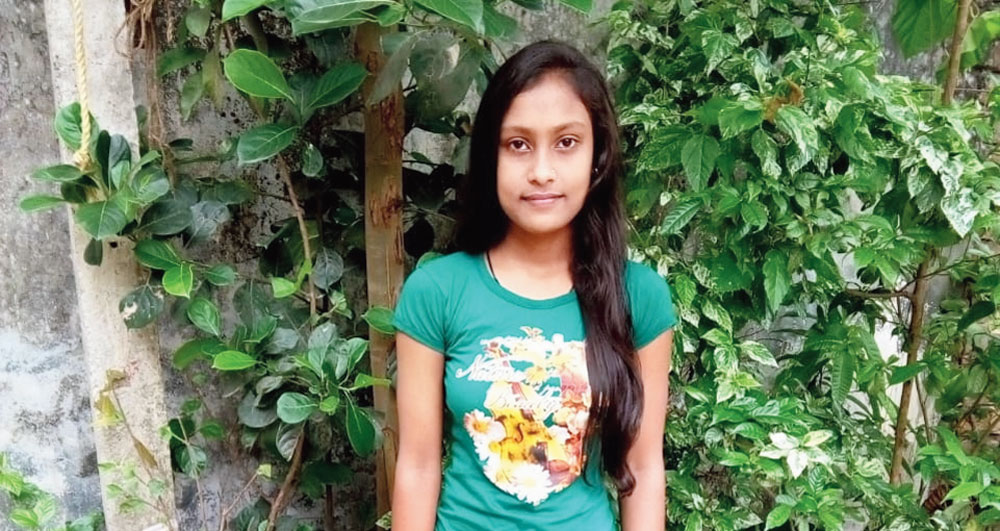 ---
---
Three years ago, Neha Kumari had promised her father on his deathbed that she would continue her studies, come what may.
Not only did she keep her word but succeeded with flying colours, securing first division in the High School Leaving Certificate (HSLC) Examination 2019, results for which were declared on Wednesday.
"My father, Ganesh Shah, was a vegetable vendor. In 2016, when he was dying, he asked me to continue my studies, fighting all obstacles. I did so," Neha, a student of Jawahar Hindi High English School here in Tinsukia district of Upper Assam, told The Telegraph on Thursday.
Neha has secured a total of 71.5 per cent with 84 per cent in mathematics in the class X board exam.
After her father's death, Neha's elder brother, Bablu Shah, who used to study in Doomdooma College, gave up his studies and started working as a daily wage labourer so that his sister could continue studying.
"The past two years, I used to walk two hours, covering a distance of 5km from my house at Choudhary Market in Doomdooma Town to my school, as I had no money to pay autorickshaw fare," the girl said.
Neha got admission in Jawahar Hindi High English School for classes IX and X though it was far away, as the high schools in the town were mostly English and Assamese-medium and she had studied in a Hindi-medium school, Doomdooma Hindi Middle English School, till class VIII.
Neha said she would now take admission in higher secondary school so that she can fulfil her dream of becoming an IPS officer. Her mission is to remove corruption from the country. "Corruption is the root cause of backwardness and poverty as the needy never get benefits of government schemes," she added.
The determined girl is lucky to have her family firmly behind her.
"I'm very happy with her result and ready to provide all the help I can because she is dreaming of flying high and doing something for the country," Bablu said.
Neha's mother Gayatri Devi said, "Neha is a brave and intelligent girl. If her father were alive today, he would be very happy. Bablu's sacrifice is praiseworthy. He works hard to run the family and help Neha."
Ajay Kumar Thakur, a non-teaching staff in Neha's school, said, "She is a well-behaved and sincere girl, good in studies and sports."
At present, Neha is undergoing a vocational training course for which she is staying at her maternal aunt's house at Dhupguri town in Jalpaiguri district of Bengal.
Altogether 59 students, 20 boys and 39 girls, of Jawahar Hindi High English School had appeared for the matric exam this year, of whom 35 have passed.
Only 65 of the 4,234 government-run schools in Assam have registered 100 per cent pass percentage in the HSLC exam this year.