5000 seek justice for murdered minor in Hojai
The accused was arrested on Thursday itself and is in police custody for 4 days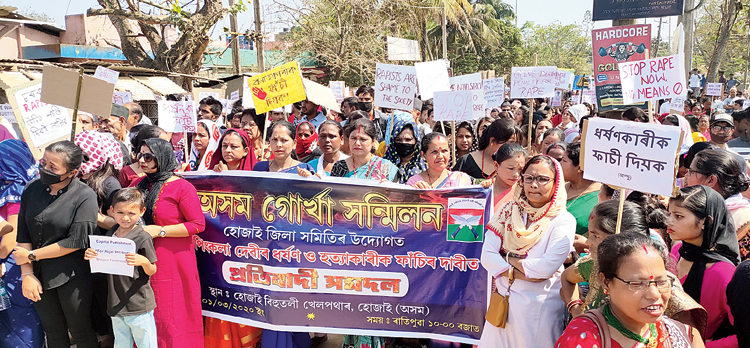 ---
|
Hojai
|
Published 01.03.20, 06:44 PM
---
Nearly 5,000 people from all walks of life, including school and college students and various organisations took out a rally on Sunday, demanding a death sentence for the perpetrator who allegedly raped and killed a five-year-old on Thursday.
The accused, Bikram Harijan, alias Chandan, 25, was arrested on Thursday itself and is in police custody for four days.
The people of greater Hojai took out the rally which began from Bihutoli field on Sunday morning which traversed through major roads of the town and culminated at Hojai police station. Thousands joined the rally holding placards which read "Rapists should be punished, Hang rapists, No mercy for rapists, No justice, no rest".
"We appeal to the government to hang the culprit and condemn this gruesome attack on humanity," said Sanjib Chetri, president, Gorkha Samellan, Hojai district unit.
"Such incidents create a fear psychosis. The culprit should be given such punishment that a message goes out that whoever dares to commit such a crime will have to face serious consequences, he said.
The people of greater of Hojai along with Assam Gorkha Sammelan Hojai district, Sri Sri Satya Narayan Mandir Management Committee and Bharatiya Gorkha Parisangha submitted a memorandum to Hojai police officer-in-charge Gautam Kumar and a similar memorandum to chief minister of Assam Sarbananda Sonowal will be forwarded through the Hojai deputy commissioner.
The memorandum has demanded a trial in a fast-track court under Pocso, death sentence for the perpetrator, immediate settlement of financial aid to aggrieved parents and establishment of a police outpost in the area.