250 families in relief camps after Tripura clash
Kanchanpur subdivisional magistrate told that they stay at their homes during the day but return to the camps at night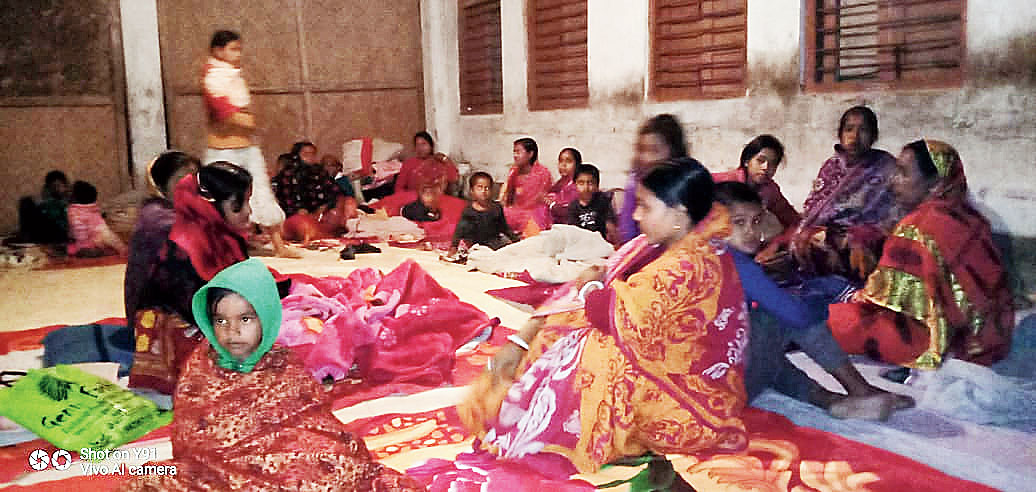 ---
|
Agartala
|
Published 14.12.19, 09:21 PM
---
Normalcy returned to Tripura on Saturday after four days of continued protests against the Citizenship (Amendment) Act, 2019.
However, 250 families are sheltered in four relief camps at Kanchanpur in North district after a clash following a protest over the act on December 10.
"They stay at their homes during the day but return to the camps at night," Kanchanpur subdivisional magistrate Abhedananda Baidya told The Telegraph.
Protesters had vandalised shops and hurled stones on traders. Police fired tear gas shells and blanks to disperse the mob. According to a government report, 64 shops were damaged at Kanchanpur. Two vehicles were also set ablaze by picketers. Following the incident, around 95 families took shelter in different schools.
Subdivisional police officer Bikramjit Shukla Das said the situation was peaceful in Kanchanpur but owing to false rumours, the people were not ready to return to their homes.
"There is a sense of fear among the people who continue to live in the camps. We are taking steps to send them back home with security. Fake rumours are one of the biggest hindrances. We have deployed enough security forces across the subdivision to improve public confidence. No incidents were reported in the last two days," he said. Residents of Kanchanpur, Dasda, Satnala, Daspara, Brupara and other neighbouring areas are sheltered in the camps.
Tourney deferred: The secretary of the directorate of youth affairs and sports, Debasish Basu, said the under-17 national school football tournament for boys has been deferred owing to the unrest in Assam and Tripura.
The tournament was scheduled to be held in four Tripura districtsfrom December 18.
"The situation is not conducive for holding the tournament. We have not decided a new date," he told this correspondent.
Pradyot moves SC
Royal scion and former state Congress chief Pradyot Kishore Manikya Deb Burman filed a petition in the Supreme Court challenging the act on Saturday.
"I am not opposed to Bengalis at all. We are opposed to illegal migrants irrespective of any religion, caste or ethnicity. In fact, if the government decides to distribute the persecuted minorities across India and not in one region, I will welcome it. Tripura has suffered enough. Why should Tripura take the burden of illegal migrants? Tripura is a shining example of giving shelter to persecuted Hindu minorities. But the time has come for the rest of the country to take the load. Today I filed a petition challenging the Citizenship (Amendment) Act," he said
The petition is listed for hearing on Monday, he said.