1st train tests Brahmaputra's Bogibeel bridge
17 years for a dream to come true: India's longest rail-cum-road bridge, at 4.94km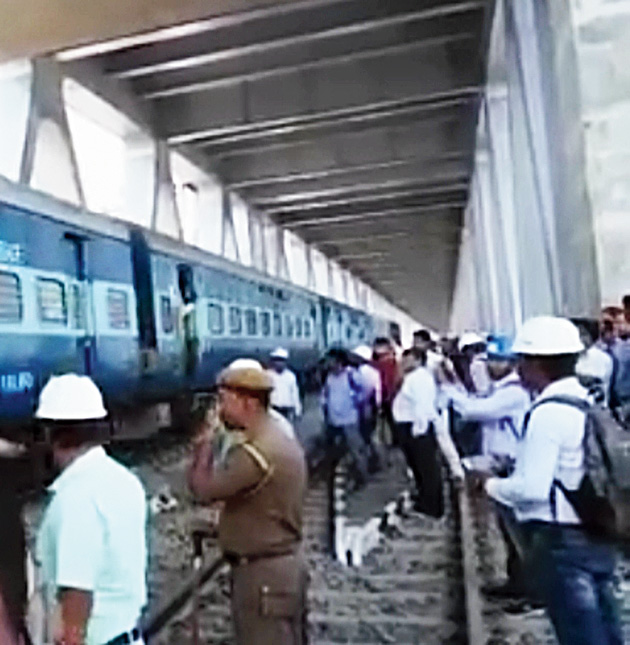 ---
---
Making history, a rail engine with 15 coaches crossed the Bogibeel bridge during its maiden trial run from Dhamalgaon railway station (Dibrugarh) to Tangani railway station (Dhemaji) on Monday.
The 4.94km-long Bogibeel bridge over the Brahmaputra, 17km downstream of Dibrugarh town, is India's longest rail-cum-road bridge connecting Dibrugarh and Dhemaji.
It will take 40 minutes to reach Dhemaji from Dibrugarh by train and 90 minutes by road.
"We are anxiously waiting to travel over the bridge. We have been waiting for the last 17 years and the time has finally come. Both the sides will be connected and we can reach Dhemaji in a very short span of time,'' Bipul Phukan, a resident of Dibrugarh, said.
According to a railway source, during the trial, the train ran at between 120km per hour and 140km per hour and it took less than 10 minutes to cover the 17km distance between the two stations.
While Tangani station is situated on the north bank of the Brahmaputra, Dhamalgaon station is on the south bank. The test was carried out during the inspection of the Bogibeel bridge by the commission of railway safety.
The team has been inspecting the entire bridge, railway tracks, road on the bridge and rail tracks on the north and south banks.
After getting clearance from the team, the railways will do a load test on the bridge, sources said.
A speed test will also be done before submitting the fitness certificate.
A few other tests will be carried out before final commissioning of the bridge, a member of the team said.
According to railway officials, work on the bridge will be completed by the end of October except for the road overbridge near Dhamalgaon on the south bank approach road.
During a tour of the bridge on September 2, chief minister Sarbananda Sonowal said the bridge will be ready for commissioning by the end of the year.