130 child workers 'saved'
They had been sent to work in different tea gardens in Namsai and other eastern districts of Arunachal Pradesh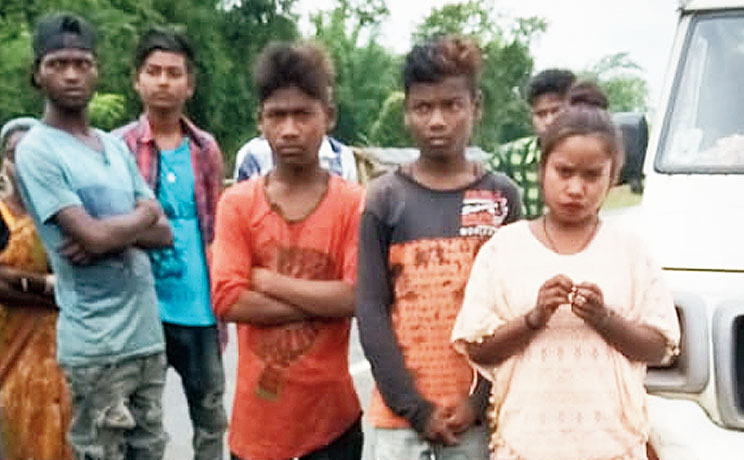 ---
Doomdooma
|
Published 06.07.19, 06:56 PM
|
---
All Adivasi Students' Association of Assam (AASAA) rescued 130 children, aged under 14 years, at Chhapotoli in Tinsukia district of Assam on Saturday. They had been sent to work in different tea gardens in Namsai and other eastern districts of Arunachal Pradesh.
The rescued children, mostly girls, are from areas like Ghoramara, Kherbari, Dangari and Chhapotoli of Talap tea estate under Doomdooma circle of Saikhowa block, which falls under Talap outpost in Doomdooma police station. "Around 7am, we noticed five vehicles carrying these children. We intercepted the vehicles at Chhapartoli. The children were sent back to their homes and the vehicles were handed over to Talap outpost," AASAA regional committee vice-president Shiv Charan Bhumij said.
"The contractors who take children to Arunachal Pradesh lure their parents with cash. Many of them end up being abused physically, psychologically or sexually," AASAA district committee secretary Suresh Bhumij said.
Child rights activist Madhu Malati Sen said, "There are certain factors behind the rising crimes against children. One of the major causes is that the state (Assam) does not have any proper mechanism to verify places where underage children work. The state is ill-equipped and has only a few childcare institutions. .
"Secondly, there is an urgent need to create awareness among the tea communities, most of them Adivasis, who fall prey to forced labour in Arunachal Pradesh as well as other states in the country."
Jayant Deka, in-charge of Talap outpost, said, "The case has been referred to Doomdooma police station."
Mani Mohan Koch, the officer-in charge of Doomdooma police station, said, "We found the vehicles empty but we have fined the owners of the vehicles for overloading (passengers) as suggested by Talap outpost. We have not received any complaints of children being transported in them."