watch
Areh, Hansa! The 'Khichdi' gang is coming back
It's time to embark on a 'secret adventure' with the Parekhs (and Himashu). Are you ready?
Published 03.10.23, 10:05 AM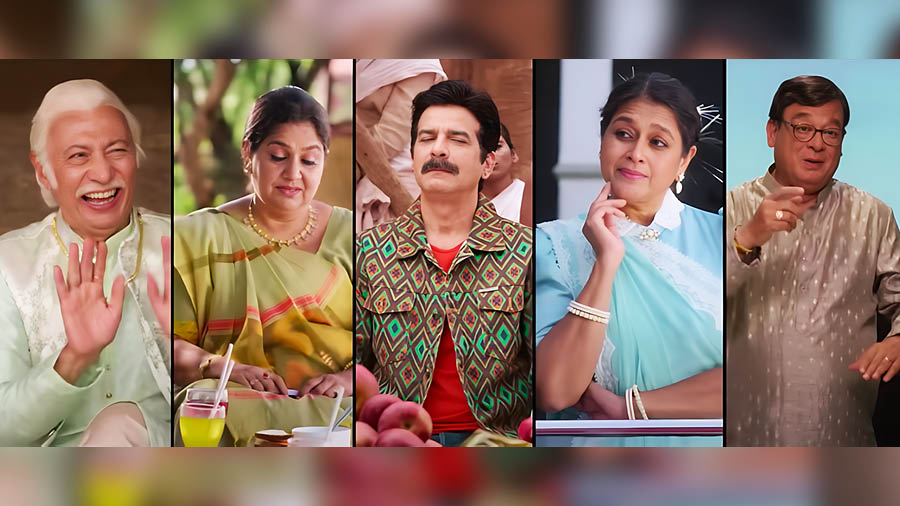 Image courtesy: Zee Studios/YouTube
It's time to LOL and enjoy a fun ride at the movies because the Parekhs — Hansa (Supriya Pathak), Praful (Rajeev Mehta), Babuji (Anang Desai), and Jayshree (Vandana Pathak) — and Himanshu (JD) are back! The teaser for Khichdi 2 is out and this time the family is set for a 'secret mission' to a faraway land named Paanthukistan. Laughing already?
The teaser for Misson Paanthukistan opens with references to Bollywood's brilliant spies Tiger and Pathan, before we meet the protagonists of this hilarious 'thriller' — the beloved Parekhs. All thoughts of a guest appearance by Shah Rukh Khan or Salman Khan melt like a snowflake as the family squabbles over Hansa's usage of the AC — switched on only once during summer before turning it off in December. Then the adventure, and the family, take off for an exciting adventure.
Joining the party this time are Kirti Kulhari, Farah Khan Kunder, Pratik Gandhi, Kiku Sharda and other popular names, making it quite difficult to wait for November 19, when Khichdi 2 releases. After all, it's the second time that the franchise is returning as a film, and that too after 13 years. While you wait, catch up on Khichdi: The movie here, to gear up for part two.
— Pooja Mitra
Want to get featured in the Try This Today section of My Kolkata? Mail us at trythistoday@tt-mykolkata.com