watch
Anjan Dutt steals the show in the trailer of 'Revolver Rohosyo'
Will Subrata be able to solve the mystery?
Published 09.01.23, 07:40 AM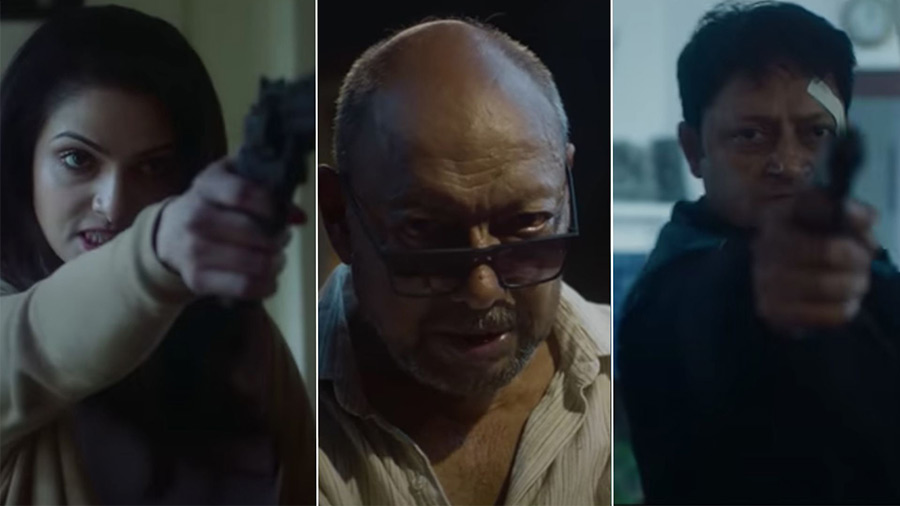 Tnusree Chakraborty, Suprobhat Das and Anjan Dutt in Revolver Rohosyo
Image courtesy: @Shadow Films/YouTube
"Apni goyenda toh? Aangye naa, magic dekhai" — Anjan Dutt's Revolver Rohosyo trailer leaves you yearning for more. The first of the Danny Detective franchise, this Suprobhat Das and Tnusree Chakraborty-starrer sleuth flick is based on the book authored by Anjan Dutt, named Danny Detective INC. The trailer promises action, passion, adventure, powerful cinematography and music — and also features Anjan Dutt himself along with Sujan Mukherjee and Chandan Sen in the cast. Neel Dutt has created the background score and is also the creative producer, while Arghyakamal Mitra is the editor of the venture.
The story revolves around a crime reporter Subrata Sharma, whose career makes a paradigm shift from being unemployed to becoming the secretary of Danny Detective INC agency to embarking on a mystery-solving journey.
— Pooja Mitra