watch
Sunday Classics: Come September
Clean, old-fashioned fun defines this iconic Rock Hudson-Gina Lollobrigida movie
Published 25.09.21, 11:54 PM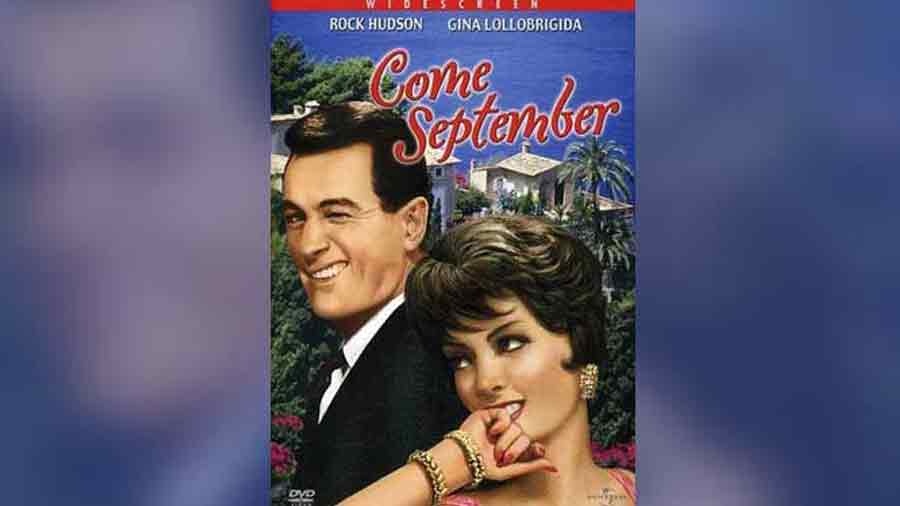 Image courtesy: Amazon
High on repartee and hyperbole, Come September has all the comedic elements to make it perfect for Sunday-afternoon downtime, even 60 years after its release. Rock Hudson plays Robert Talbot, a cliche of wealth and good looks, while Gina Lollobrigida is Lisa, his stunning September girlfriend. The trouble is… it's not September! It's July…Lisa is about to marry a stodgy Englishman and Robert discovers his villa has been turned into a hotel by his major domo. That's not all — a group of cheeky American boys are chasing after teenage American girls, while their chaperone nurses an injury. Talbot turns overnight from being the rake to being an overprotective guardian, and Lisa's European joie de vivre does nothing to improve his mood.
There's never a dull moment, with the exuberance of young love (yes, Sandra Dee and Bobby Darin fell in love while filming) juxtaposed against the worldly sophistication of Robert and Lisa (a façade that crumbles spectacularly). After all, "Multiplication, that's the name of the game, and each generation, they play the same."
The catchy Come September title track inspired at least two Bollywood songs in 1995, but not before the plot gave way to two Bollywood remakes in the 60s — Kashmir Ki Kali and Mere Sanam. Which version are you watching this last Sunday of September?
— Vedant Karia