watch
Khan-daan's new gen makes Bollywood debut with 'Farrey'
'Mamu' Salman Khan introduced the upcoming flick starring niece Alizeh Agnihotri
Published 27.09.23, 09:21 AM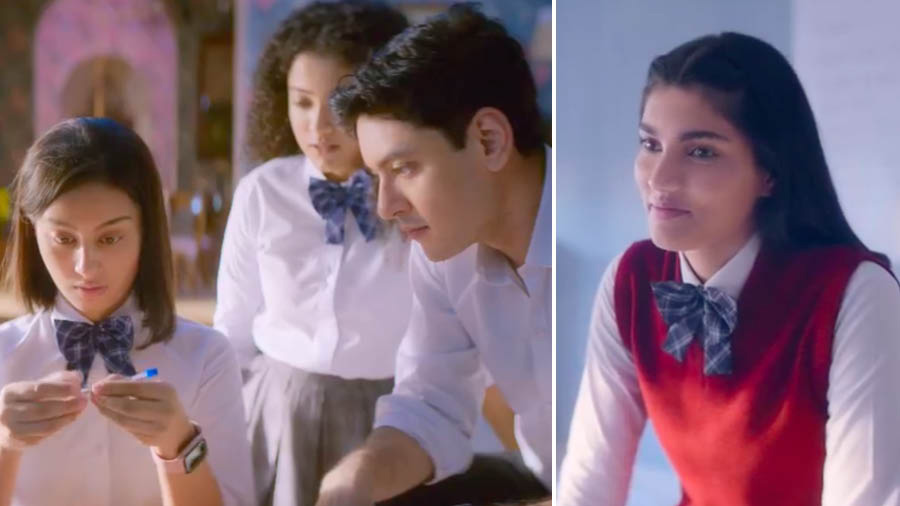 Image courtesy: @beingsalmankhan/Instagram
Salman Khan has learnt a new 'F word' and before you look too much into it, that's how the Bollywood star introduced the upcoming movie Farrey! The actor's niece Alizeh Agnihotri is making her bollywood debut with the film, directed by Soumendra Padhi of Jamtara fame. Alizeh is the daughter of Salman's sister Alvira and Atul Agnihotri.
Farrey is the colloquial Hindi term used to describe chit papers, and the movie seems to revolve around the very subject with students in an examination centre. The just-released teaser also promises "a thriller you won't expect" and with an uncanny background score, choppy transitions with tense faces on camera, it definitely seems intriguing. Alizeh plays a student in the film.
Salman Khan introduced the teaser on Instagram writing, "Main toh yeh F word ki baat kar raha tha, aapne kya socha!" Earlier this month, Salman took to Instagram with a throwback photo with Alizeh, penning a warm note for the young gun. "...ek baar jo tumne commitment kardi toh phir mamu ki bhi nahi sunnnaa!!" wrote the actor.
The film releases on November 24.
—Pooja Mitra
Want to get featured in the Try This Today section of My Kolkata? Mail us at trythistoday@tt-mykolkata.com