watch
'Raktabeej' trailer brings a different side of Abir and Mimi
A political drama that will make Durga Puja even more exciting
Published 01.10.23, 09:30 AM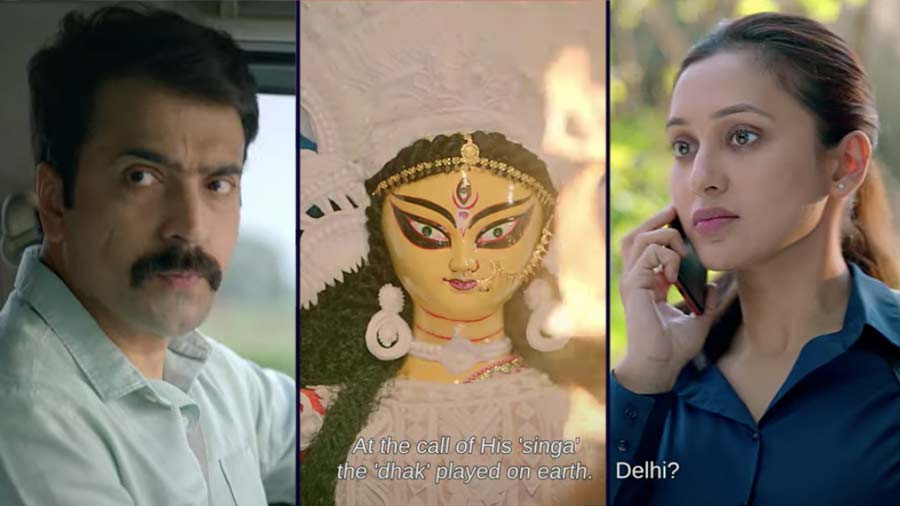 Image courtesy: WINDOWS/YouTube
Director duo Shiboprosad Mukherjee and Nandita Roy's much anticipated project — Raktabeej — is ready to hit the silver screen. Starring Abir Chatterjee and Mimi Chakraborty as cops Pankaj Sinha and Sanjukta Mitra, the action-packed scenes bring out a different side of the Tollywood A-listers.
Victor Banerjee plays the nation's president, Animesh Dutta, in the film. The president's first visit to his native village during Durga Puja after assuming the office comes with a looming danger. Events like a blast, a fight between cops and criminals keep making the tale murkier. Shiboprosad, other than donning the director's hat, is also the narrator in Raktabeej. The fast-paced events in the trailer promise a high on drama story.
The film releases on October 19 and in Bengali, Assamese, Odia and Hindi. Other actors include Anasua Majumdar, Satyam Bhattacharya, Devlina Kumar, Kanchan Mallick, Ambarish Bhattacharya and Debasish Mondal. The music is by Dohar, Anindya Chattopadhyay and Surajit Chatterjee.
— Pooja Mitra
Want to get featured in the Try This Today section of My Kolkata? Mail us at trythistoday@tt-mykolkata.com