watch
'Jhalagaan Palagaan' on Uribaba
Uttam vs. Soumitra in folk theatre? We are already hooked
Published 15.01.22, 07:57 AM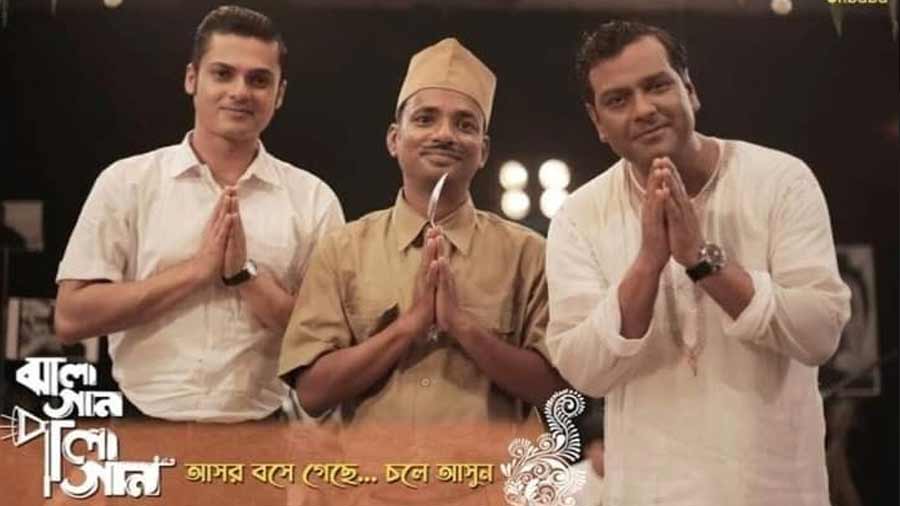 Image courtesy: @Ritwick Chakraborty/Facebook
Uribaba's Jhalagaan Palagaan explores one of the most enduring debates in Bengali pop culture — Uttam Kumar vs Soumitra Chatterjee — in the form of a musical duel between their fans. The costume-drama unfolds like a traditional Kobir Lorai or duel of verses and each episode brings forth a new cultural argument.
The five-episode web series has been conceptualised by Pradipta Bhattarcharyya, penned by Dipangshu Acharya, and has been produced under the banner 180 Degrees by Pradipta and actor Ritwik Chakraborty. Satyaki Banerjee who scored the music believes the project is 'a pathbreaking piece that may lead to many other possibilities.' The 19 minute-long first episode that aired on January 9 also marks the playback debut of Rajarshi Ghosh, one of the founding members of the Bengali band Borno Anonyo.

Be prepared for the second episode of the tarja pala which opens up the Gram Bonam Shohor debate!
- Pooja Mitra