watch
Hoichoi turns seven, announces 24 new shows!
Mimi, Chiranjit and Debasree to make their OTT debuts with the streaming network
Published 02.10.23, 09:06 AM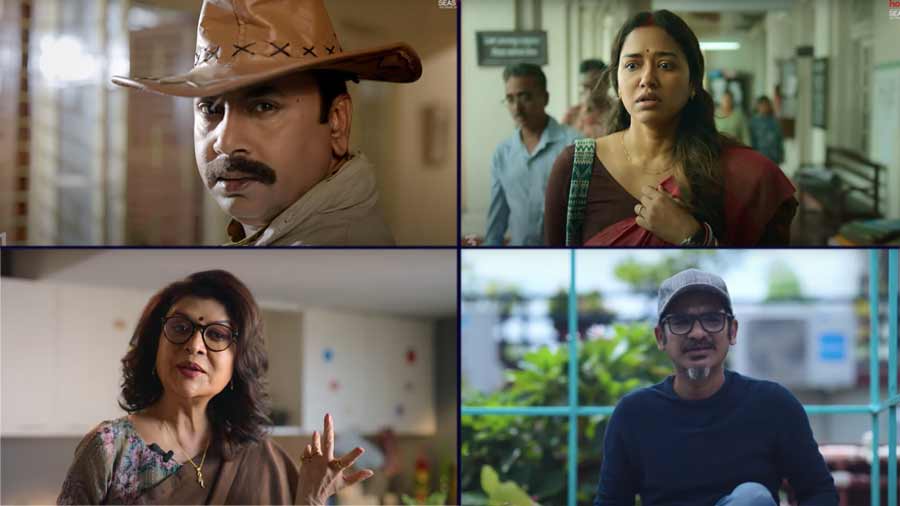 Image courtesy: Hoichoi/YouTube
Hoichoi turned seven, and made a mega announcement with 24 new shows. Not only will there be a new adventure of Anirban Chakrabarti aka Eken Babu, and powerful seasons of Sampurna 2 starring Sohini Sarkar, and Indu 2 with Ishaa Saha, Mimi Chakraborty will be also making her OTT debut with Jaha Bolibo Shotto Bolibo this year. Mimi is paired opposite Tota Roy Choudhury in the project.
Veteran actors like Chiranjeet and Debasree Roy are also making their OTT debuts. Chiranjeet will be seen in the Parambrata Chattopadhyay directorial, Parnashavarir Shaap. Debashree has a fun project titled Chemistry Mashi in her kitty. The new announcements also include Dadur Kirti with Paran Bandyopadhyay, Lajja with Priyanka Sarkar in the lead and Ritwik Chakraborty as advocate Achinta Aich in a series.
Well-known shows like Gobhir Joler Maach, Noshtoneer, Gora, Dakghor, Bodhon and Rajneeti are also making a return. ​​Durgo Rawhoshyo by Srijit Mukherji with Anirban Bhattacharya as Byomkesh Bakshi will also be streaming on Hoichoi.
— Pooja Mitra
Want to get featured in the Try This Today section of My Kolkata? Mail us at trythistoday@tt-mykolkata.com