watch
'Dune' is a visual masterpiece
A power-packed ensemble comes together for the latest adaptation of Frank Herbert's epic
Published 26.10.21, 07:05 AM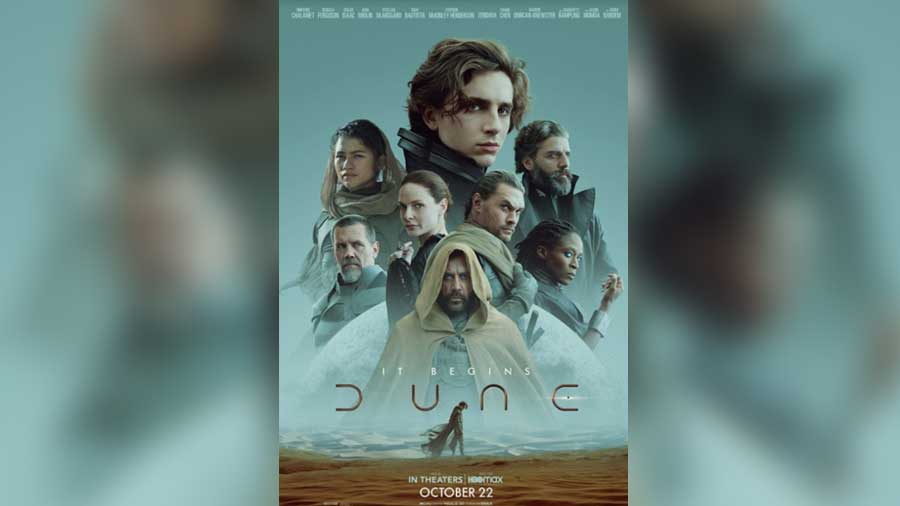 Image courtesy: IMDB
Although science fiction has emerged among the most popular movie genres in recent years, few non-superhero films have garnered much success. Dune seems poised to break the curse, being an epic that beckons a viewing in the theatre, courtesy the incredible visuals and Hans Zimmer's masterful score.
The film has an ensemble cast that could put even Marvel to shame, comprising Timothée Chalamet (who plays the protagonist Paul Atreides), Oscar Isaac, Rebecca Ferguson, Zendaya, Jason Momoa, Josh Brolin, Stellan Skarsgård, Dave Bautista, and Javier Bardem.
Director Denis Villeneuve excels at adapting what is considered a complex science fiction novel, into a film that immerses the viewer from the very beginning. For Dune fans, it is the adaptation they were waiting for where pages of the book come alive on screen, but it is a treat for Dune noobs too as the director makes complex concepts simple. The action pieces feel fresh and impactful, but it is the underlying tension that regulates the film's tempo.
Given that the film left more than half of the novel out for a potential sequel, we are excited at the prospect of more Dune. The film is playing in cinema halls across the city.
— Vedant Karia