watch
It's been 25 years to 'Pyaar dosti hai'
KJo, time for 'Kuch Kuch Hota Hai — 25 years later'?
Published 04.10.23, 09:32 AM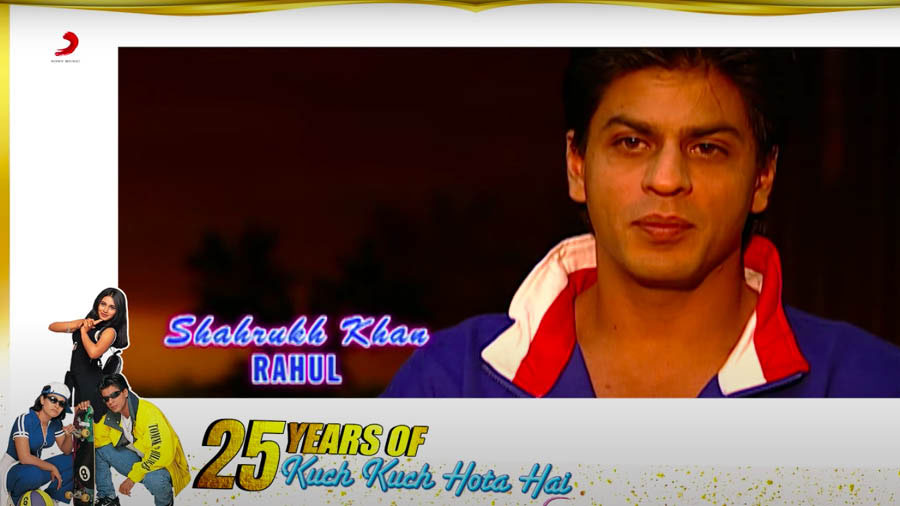 Image courtesy: Sony Music India/YouTube
Tina, Rahul and Anjali — the love story that made us laugh, weep and cheer. From swooning over Rahul's 'naam toh suna hoga?', crushing on Tina's impeccable fashion choices, or wanting to hug Anjali when she said "Mera pehla pyar adhura reh gaya…" — Kuch Kuch Hota Hai gave us special moments that still hold an important place in our Bollywood-loving hearts. And it has been 25 years since the trio of Shah Rukh Khan, Kajol and Rani Mukerji gave us the iconic 'Pyaar dosti hai.'
Karan Johar's directorial debut gave us a classic Bollywood love story with unforgettable music, memorable dialogues and a story to go back to. It is impossible to not feel sorry and proud for Aman aka Salman Khan for loving and letting go. On the quarter century of this iconic flick, Sony Music India has released a montage of memories with unseen moments along with thoughts by King Khan. Celebrate the milestone by taking a trip down the memory lane.
— Pooja Mitra
Want to get featured in the Try This Today section of My Kolkata? Mail us at trythistoday@tt-mykolkata.com