travel
Celebrate Mahalaya in style at Nihar on the Ganges
The garden house is celebrating Mahalaya with food, sightseeing, Tarpan and stunning views
Published 01.10.23, 09:32 AM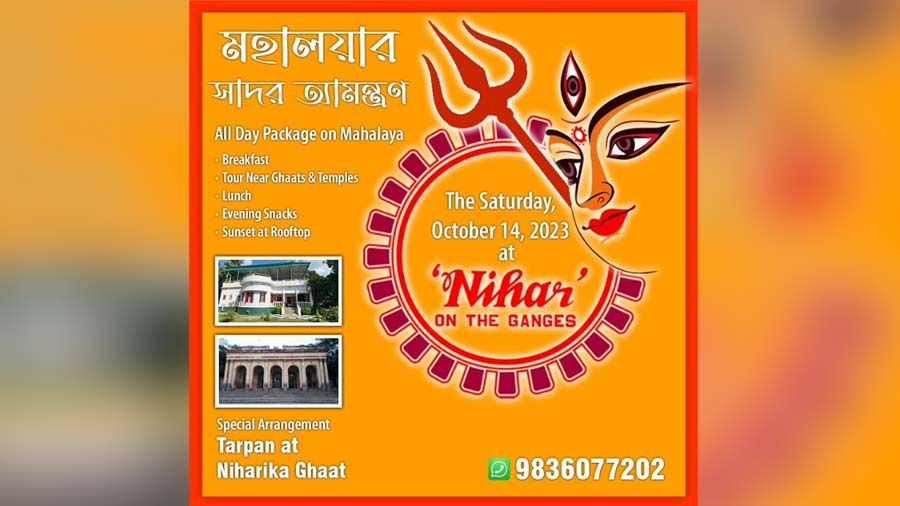 Image courtesy: Nihar on the Ganges
Want to take a vacation this festive season, but also want to stay close to Maa?
Book a vacation with Nihar on the Ganges, a century-old garden house nestled amongst lush greenery on the banks of the holy river. Located just an hour from the city, the space will celebrate Durga Puja in a grand way with an all-day package on October 14, in light of Mahalaya. Guests will be served breakfast, lunch and evening snacks, along with an e-rickshaw tour of the nearby ghats and temples. The icing on the cake would be the stunning rooftop sunset views, apart from the traditional Mahalaya Tarpan rituals.
You can book your Puja rooms by calling or sending a WhatsApp text to 9836077202. You can also find additional information at their website.
— Vedant Karia
Want to get featured in the Try This Today section of My Kolkata? Mail us at trythistoday@tt-mykolkata.com