social
Mickey Mouse gets an Indian makeover by Sabyasachi for #DisneyCreate100
The designer's artwork 'Namaste Mickey' is for the Create 100 campaign for the centenary celebrations of Disney
Published 23.09.23, 10:02 AM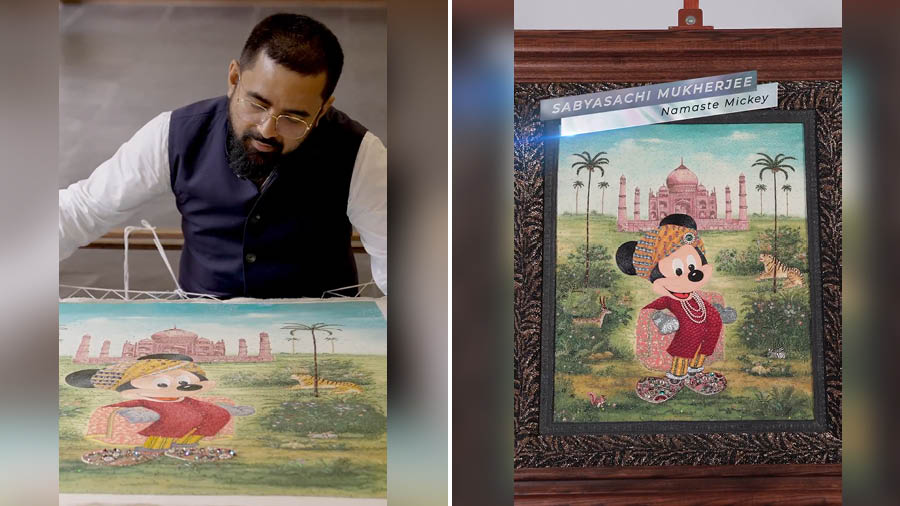 Image courtesy: @sabyasachiofficial/Instagram
India's much celebrated designer and Kolkata boy Sabyasachi Mukherjee's Mickey Mouse poses in front of the Taj Mahal dressed in an embellished sherwani! As part of Disney's Create 100 global campaign — which celebrates a century of storytelling — the designer was approached to create a unique piece.
Sabyasachi's creation named 'Namaste Mickey' is a mixed-media artwork on handwoven cotto, hand embroidered with metal and bead detailing. It shows the iconic Disney character in ethnic Indian attire and traditional jewellery striking a fun pose with the backdrop of the Taj Mahal. Mickey is framed by a landscape depicting India's flora and fauna including the tiger — a motif is often found in Sabyasachi's designs.
In a recent video posted on the designer's Instagram account, he said, "We wanted to create something like magic realism but done through painting and embroidery." The 'Create 100' campaign — part of it is the creation of 100 unique items — celebrates 100 years of Disney's storytelling legacy and as part of the campaign will also be donating $1 million globally to Make-A-Wish Foundation, a NGO for children with critical illnesses.
—Jaismita Alexander
Want to get featured in the Try This Today section of My Kolkata? Mail us at trythistoday@tt-mykolkata.com